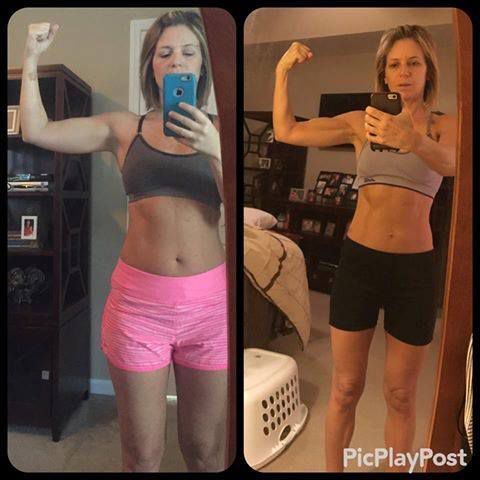 Things I am NOT....
A personal trainer
A nutritionist
Someone who works out hours every day
Someone who eats clean 100% of the time
Into "dieting" or counting calories
Someone who never drinks alcohol
A morning person
Motivated by money
Things I AM...
A wife
A step-parent and doggie momma
An accountability partner
An encourager and motivator
A friend
A pizza and wine lover
An online health and fitness coach
Busy with a full time job in addition to coaching
Passionate about health
Committed
Consistent
Trusting in a process that I know works
Before I started this journey in February 2016, I was tired, insecure and uncomfortable in my own skin.
I'd been down the road of starting and stopping fitness programs so many times. I made all the excuses as to why I didn't have time to workout. When I did try to "get into shape" I didn't have a plan and never saw the results I wanted. I QUIT A LOT!
But then, I found a program/company that completely changed my life. SERIOUS CHANGE in:
MIND - I'm confident and comfortable in my own skin and I know I can accomplish anything I put my mind to.
BODY - I've lost 15 pounds and kept it off. My clothes fit better than they ever have. I get compliments on muscles that didn't exist a year ago.
SPIRIT - Working with people every day who support me and giving the same back to them has resulted in awesome friendships that fuels my passion and soul.
WALLET - a little extra money to pay for my products (and them some) never hurts.
I don't do it for the money. I do this because coaching thing because I LOVE IT!
💕
My goal is to inspire others to change their lives, even if it's just ONE person. It's called transformation and it's possible for ALL OF US!
You know you've seen those social media posts and those infomercials on TV (you know, the ones that are on at like 3am) and wonder if those "silly at-home fitness programs" ACTUALLY work. I know I had those same thoughts.
Well let me tell you something, THEY WORK. I'm proof of that and I know so many other people who could say the same.
Yes, they work if you DO THE WORK. No, it doesn't happen overnight. It takes commitment and consistency.
But, think about this....do you want to be in the same place a year from now that you are now?
What if you could do something differently that could make a change in your life forever? What if you had a support system in your corner that could help you do that?
What do you have to lose? How about what you could gain?
So much has happened over these past year and I'm thankful for that. I can't wait to see what the future has in store for myself, my family, and my FitPack. I'd love if you would be a part of it!
"The only time you should ever look back, is to see how far you've come."
To be informed of the latest articles, subscribe: