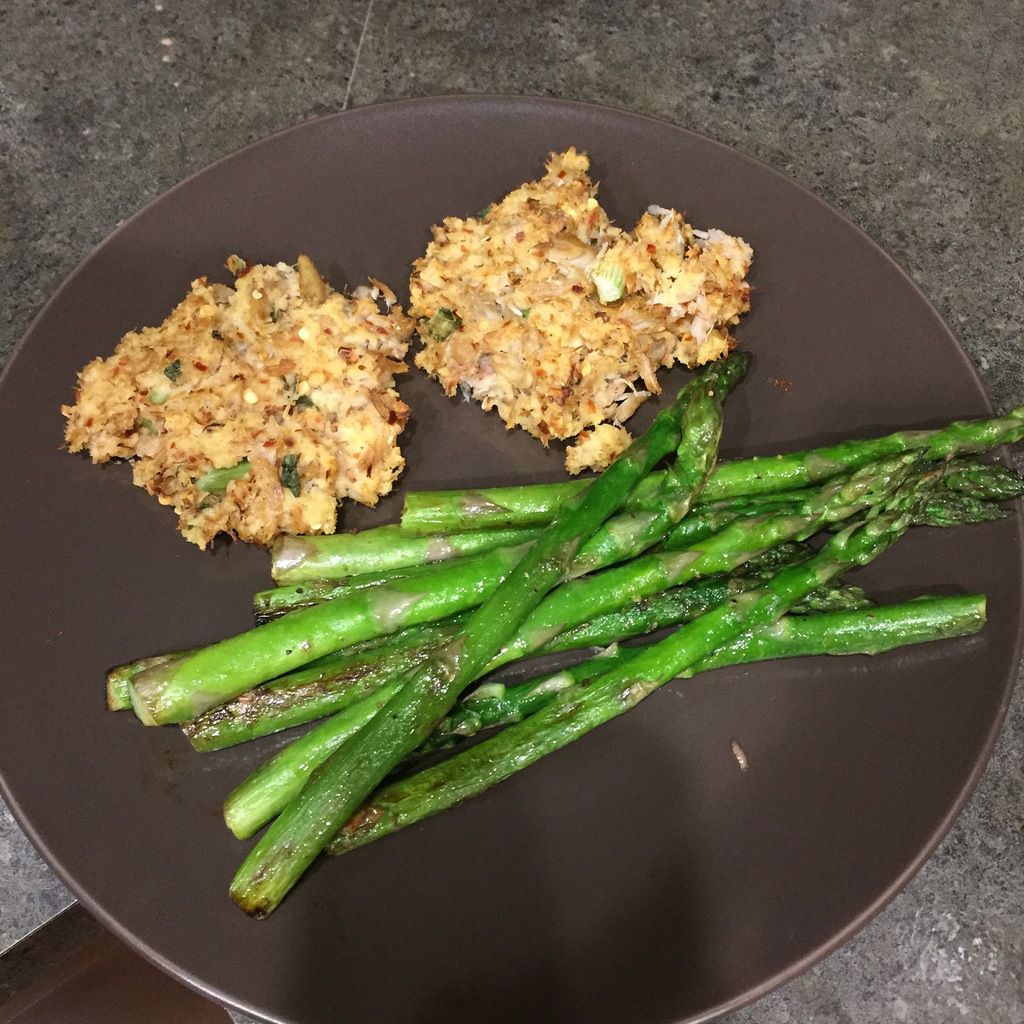 In preparation for starting 21 Day Fix, I tried a new recipe tonight. Love me some crab cakes and these turned out really well!
Ingredients for Crab Cakes:
12 ounces lump crab meat
¾ cup of Panko breadcrumbs
2 eggs, beaten
3 chopped scallions
3 tsp crushed red pepper (can also use flakes)
2 tbsp plain Greek yogurt
1/2 lime, juiced
salt and pepper to taste
cooking spray
Directions:
Spray a baking sheet with cooking spray. Preheat your oven to 400 degrees.
In a bowl, combine the panko, eggs, scallions, crushed red pepper, Greek yogurt, lime juice, salt and pepper. Once it's mixed well – and paste-like – fold in your crab meat, being careful not to overwork the crab.
Using a ½ cup measuring cup, shape small crab patties and place them on the greased baking sheet. Chill in the fridge for at least 30 minutes.
​I actually forgot the refrigerate step and they still turned out ok!
4. Bake in the preheated oven for 10 minutes. Then flip each cake, and bake for 10 more minutes on the other side or until golden brown.
I also made a very delicious, and 21 Day Fix approved spicy Dijon sauce, for drizzling on the crab cakes.
Ingredients for sauce:
3 tablespoons plain Greek yogurt
A generous squirt or two of Dijon mustard (go light here unless you really love mustard)
Hot sauce, to taste
1 tablespoon white wine vinegar
1 teaspoon of crushed red pepper
Directions:
Whisk together all ingredients in a bowl. Drizzle over warm crab cakes. And enjoy!
21 Day Fix Containers:
2 crab cakes w/ sauce = 2 red, 1/2 yellow, 1/8 green
To be informed of the latest articles, subscribe: