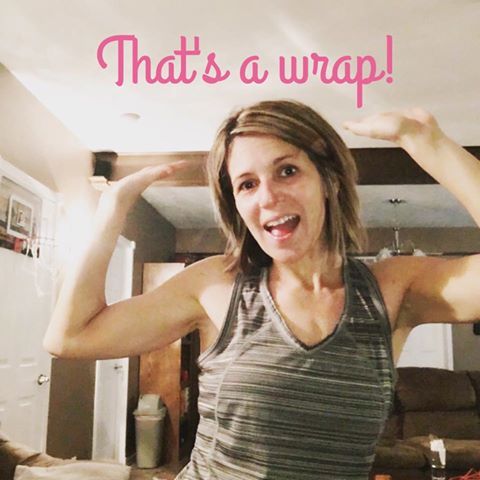 This weekend, I finished my first round of PiYo.
What's PiYo?
It's a yoga and pilates inspired, full body workout program that is gentle on your body because it's low impact. If you're familiar with yoga and pilates this similar movement, more intensity, faster pace. The program is 8 weeks and runs you through a series of 8-10 different workout videos throughout those 8 weeks. Workouts ranged from 20 minutes to 45 minutes with most being around 30 minutes.
Upper Body
Lower Body
Sweat - Total Body
Drench - Total Body
Core
Sculpt - Total Body
Buns
Legs
Strength
So how did I do and what did I think?
I'll be honest. Going in I was worried that I would lose some progress because this was a low impact workout. I know you can build muscle with just body weight but I wondered if lower intensity would get me the same results.
It was a MAJOR adjustment from the kickboxing/mixed martial arts workout I had been doing for two months prior and, at first, I didn't like it. I missed all the sweat and didn't feel like I was getting as good a workout. Now, don't get me wrong. I'm not saying it was easy. I was sore. Some of those workouts kicked my butt, especially the first time I did the Core workout. Have I mentioned I hate crunches? :)
I had chosen this program in homes that the lower impact would mean I needed to modify less on my bum ankle. And, just maybe, it would help heal that ankle. I also wanted to give my body a break after a year of pretty intense, pounding workouts.
Here's what I learned from this program:
1. You do not need to jump to get results. If you focus on intensity in any movement, even a modifier can get an excellent workout with fantastic results.
2. My own body weight is just as effective (if not more) than holding weights.
3. It doesn't have to be fast to be effective. It's all about intention and effort.
This program may not go down as one of my top 3 favorites but I did come to appreciate it and I'm even going to miss doing it every day.
I took my after photos and measurements this morning and I learned something there too. In complete transparency, I did not do a good job with my eating during this program. I'm in maintenance mode so I indulged a bit more than I might have in the past. Again, I was worried that the low intensity plus some questionable diet choices would have me gaining weight.
Well, I needed to gain a few pounds. During my last weigh in, before starting this program, I was 107.5. That's a little too light for me. So I gained about 5 lbs. I'd say, 3 of that I need to gain back. However, when I stepped on the scale, I was not happy to see that number. It never feels good to know you've been gaining weight.
I do want to point out that I didn't eat like a pig for 8 weeks. I did up my calories some, again I needed to, but I did a good job about 75% of the time with my food. there just may have been a few too many desserts and glasses of wine in there. Knowing diet is 80% of any results, I didn't expect to see any.
However, when I looked at my before/after photos, it was somewhat amazing to me. This is why I always tell my FitPack that they better take those photos. The scale is not always our friend.
In looking at these photos (left is before/right is after), here's what I noticed.
1. I have lost my tan - that's depressing.
2. I can see a little less definition in my core - the inches didn't change at all.
3. I can see the couple of inches I gained in my butt and hips.
4. I increased muscle definition in my legs
5. I didn't lose a bit of definition in my arms.
That tells me that while I may have a couple of pounds that are hanging around because of the increased calories and carbs, some of the weight increase is actually muscle. I've been working on building muscle in my legs, it is my number one trouble spot, and it's finally paying off! That is exciting!!!
Check out the pictures and let me know if you can see the difference. maybe it's just me. :)
If you're curious about this program, reach out. I'd love to tell you about it. If you need help with your fitness and/or nutrition, I'd love to chat about how I might encourage and support you. Comment here or send me an email at janetsmith0905@gmail.com.
To be informed of the latest articles, subscribe: