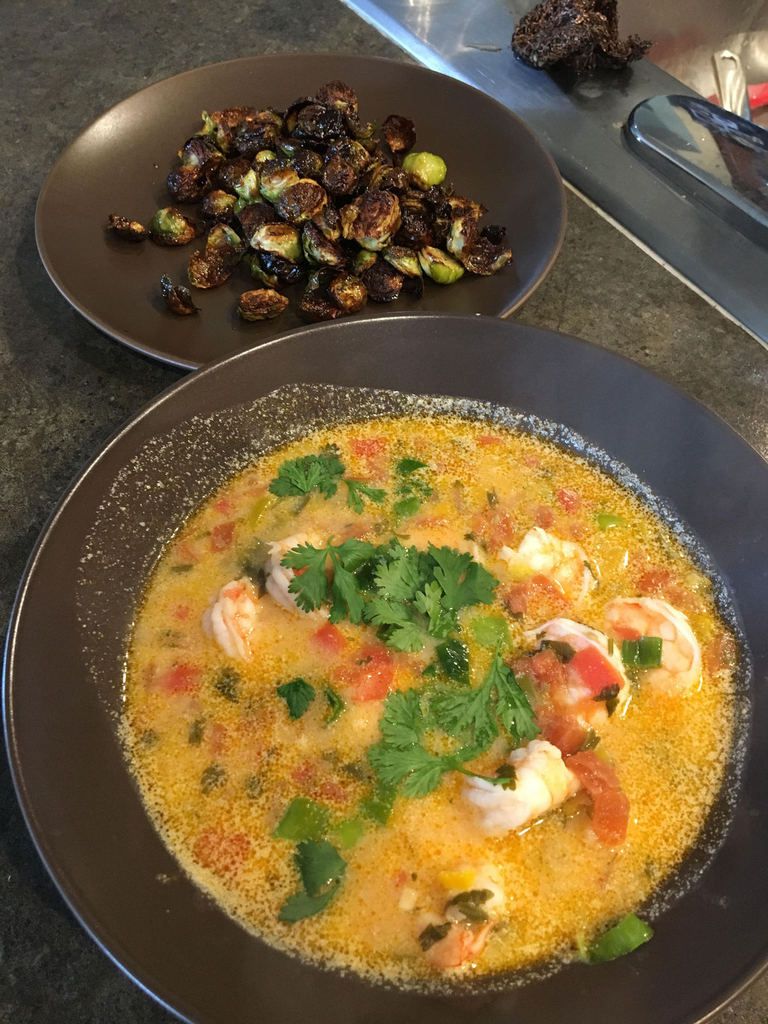 Tonight, I was on my own as the boys were elsewhere. On nights like these, sometimes I like to cook just for myself. I make things they would never appreciate. So tonight, spicy shrimp stew was on the menu. Oh, and I made the crispy asian brussels sprouts again. So good!
INGREDIENTS:
1 1/4 lbs peeled and deviened jumbo shrimp (weight after peeled)
1 tsp olive oil
1 red bell pepper, diced
4 scallions, thinly sliced, white and green parts separated
1/2 cup chopped cilantro
4 cloves garlic, minced
1/2 teaspoon kosher salt
1/2 tsp crushed red pepper flakes (or to taste)
14.5 oz can diced tomatoes
14 oz can light coconut milk
1/2 lime, squeezed
DIRECTIONS:
In a medium pot, heat oil on medium-low heat. Add red peppers and sauté until soft, about 4 minutes.

Add scallion whites, 1/4 cup cilantro, garlic and red pepper flakes, cook 1 minute.

Add tomatoes, coconut milk and 1/4 teaspoon salt, increase heat and bring to a boil, cover and simmer on low about 10 minutes to let the flavors blend and to thicken the sauce.

Add shrimp and cook 5 to 6 minutes, until opaque and cooked through.

Add lime juice.

To serve, divide equally among 4 bowls, about 1 1/4 cups then top with scallions and cilantro.
If you're following the portion fix plan this is 1 red, 1 green, 1 blue
To be informed of the latest articles, subscribe: