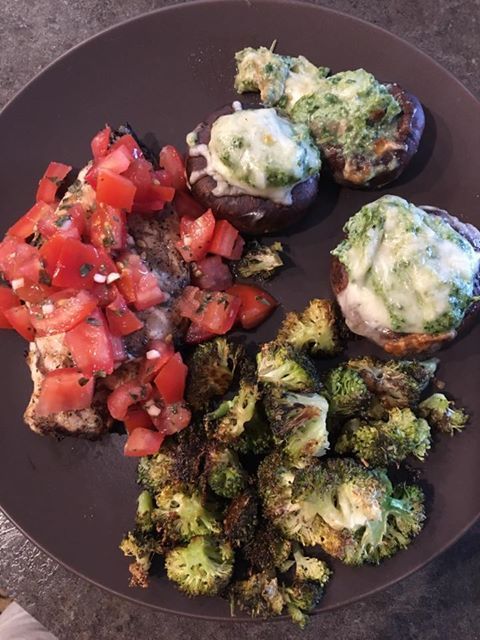 These were amazing. I used a blender to kind of puree the ingredients in the "stuffed" part. Not sure I would do that again. I might leave them a little chunkier. I would also cook them a little longer to make the cheese on top brown. You could even broil for the last few minutes.
Serving size, two mushrooms.
Ingredients:
2 tsp. olive oil
24 large mushrooms, cleaned, stems removed and finely chopped
½ medium onion, finely chopped
3 cups raw baby spinach
4 cloves garlic, finely chopped
1 dash crushed red pepper
½ tsp. finely chopped fresh rosemary
Sea salt (or Himalayan salt) and ground black pepper (to taste; optional)
½ cup part-skim ricotta cheese
½ cup shredded mozzarella cheese
Preparation:
1. Preheat oven to 350° F.
2. Heat oil in a large skillet over medium-high heat.
3. Add mushroom stems, onion, and spinach; cook, stirring frequently, for 5 to 6 minutes until tender.
4. Add garlic, red pepper, and rosemary. Season with salt and pepper (if desired); cook, stirring frequently, for 1 minute.
5. Add ricotta cheese; mix well.
6. Evenly fill mushrooms with spinach mixture.
7. Place mushrooms on a large baking sheet. Evenly top with mozzarella cheese. Bake for 20 to 25 minutes, or until bubbly.
Portion Fix: 1 green, 1 blue
To be informed of the latest articles, subscribe: