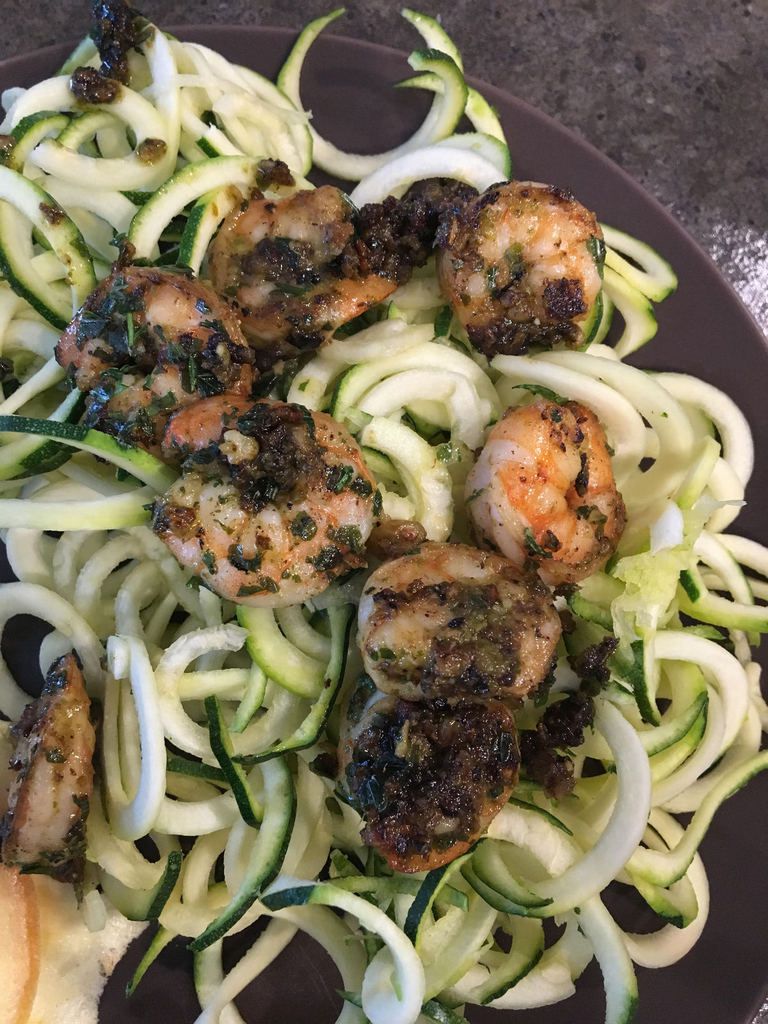 I love a meal plan that lets me eat like this! Today I made a 3 week commitment to a new program. I'm ALL IN on the workouts and the meal plan. Day 1 dinner was Garlic Basil Shrimp and Zoodles.
The shrimp were super tasty and I like zoodles so I was a fan. I'd say I wished there was more of a "sauce" to coat the zoodles so I might add some extra oil next time. I also kind of burnt the garlic so I would throw it in maybe after I cooked the shrimp. Overall, good meal and I feel full but happy that I didn't overeat or fill up on empty carbs. I saved my carbs today for a glass of wine. :)
Here's the recipe!
Total Time: 20 min.
Prep Time: 10 min.
Cooking Time: 10 min.
Yield: 4 servings
Ingredients:
5 medium zucchini
1 Tbsp. olive oil
16 oz. raw medium shrimp, peeled, deveined
6 cloves garlic, crushed
¼ cup prepared pesto
4 fresh Italian parsley sprigs, finely chopped
5 fresh basil leaves, finely chopped
Sea salt and ground black pepper (to taste; optional)
Preparation:
1. Spiralize your zucchini. I have a nifty spiralizer. If you don't, google how to make zoodles.
2. Place zoodles in steamer one steam has heated up and steam for 2-3 minutes. If you don't have a steamer, you could boil water and use a steaming basket over the stove.
3. Heat oil in large nonstick skillet over medium-high heat.
4. Add shrimp and garlic; cook, stirring frequently, for 2 to 3 minutes, or until shrimp are opaque and firm.
5. Add pesto; cook, stirring frequently, for 1 to 2 minutes, or until heated through.
6. Add parsley and basil; toss gently until blended.
7. Season with salt and pepper if desired.
8. Divide zucchini among 4 plates; top evenly with shrimp mixture.

Recipe serves 4.
Portion Fix Containers
1 Green, 1 Red, 1/2 spoon
Add sliced almonds if you'd like to add a blue container
I served mine with Cloud Bread. I have newly discovered Cloud Bread and I am in love. If you don't know what it is, check this out.
To be informed of the latest articles, subscribe: