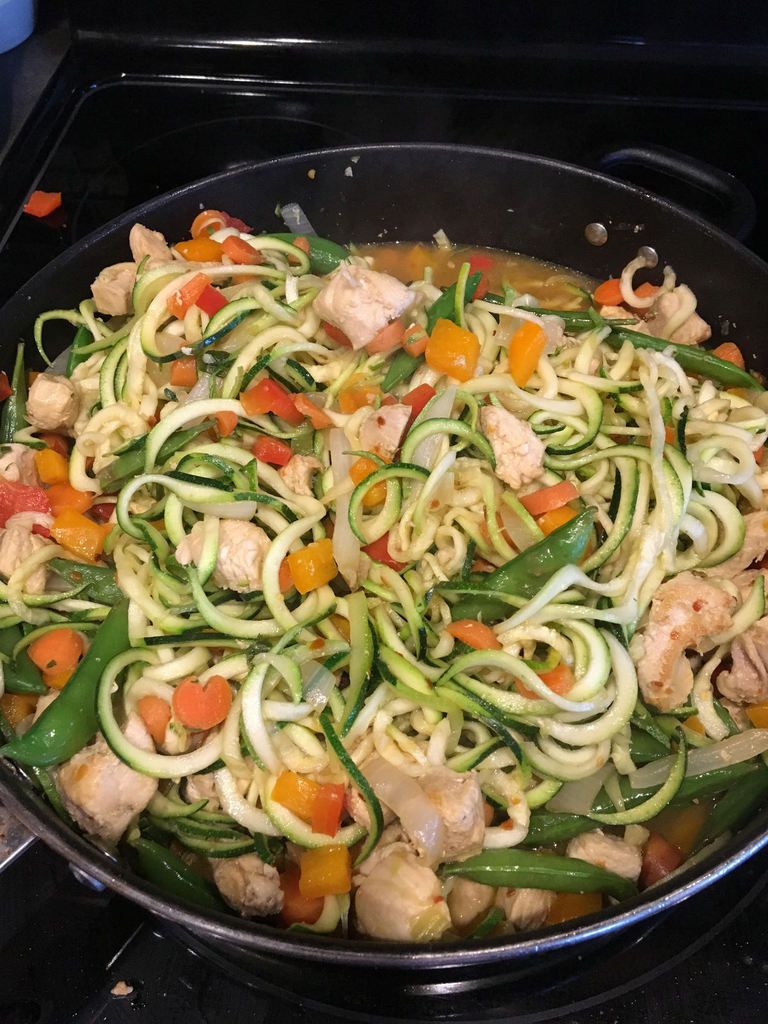 If you know me, you know I love my zoodle maker so I all in when I find a new recipe where I can use it. Bonus when it's an easy recipe. Double bonus when it ends up in a brightly colored meal like this one with ALL the veggies.
If you like veggies, asian flavors and zoodles, check out this recipe!
INGREDIENTS:
2 TSP Sesame Oil
3 Scallions, sliced
1/2 Onion, diced
2 Garlic Cloves, minced
2 Carrots, chopped
1-2 bell peppers, sliced
2 Cups Snap Peas
4 Zucchini, spiralized into Zoodles
1/4 Cup Coconut Liquid Aminos
3 TBSP Rice Vinegar
1/4 Cup Cilantro, chopped
1 tsp ground ginger
1 tbsp red pepper flakes (or the amount to your liking)
3 Chicken Breasts, cubed
DIRECTIONS:
Heat the Sesame Oil in a large sautee pan over Med-High heat until pan is hot. Add chicken breast and cook through. Add ginger and red pepper flakes.
Add garlic and onions and cook until tender.
Add carrots, peppers and snap peas. Cook for 3-4 minutes.
Add rice vinegar and liquid aminos to the pan.
Then add Zoodles. Mix well and cook until Zoodles are al dente (about 2-3 minutes).
Serve.
For the Portion Fix plan, one servings would be:
1 red, 2 green, 1 spoon
To be informed of the latest articles, subscribe: