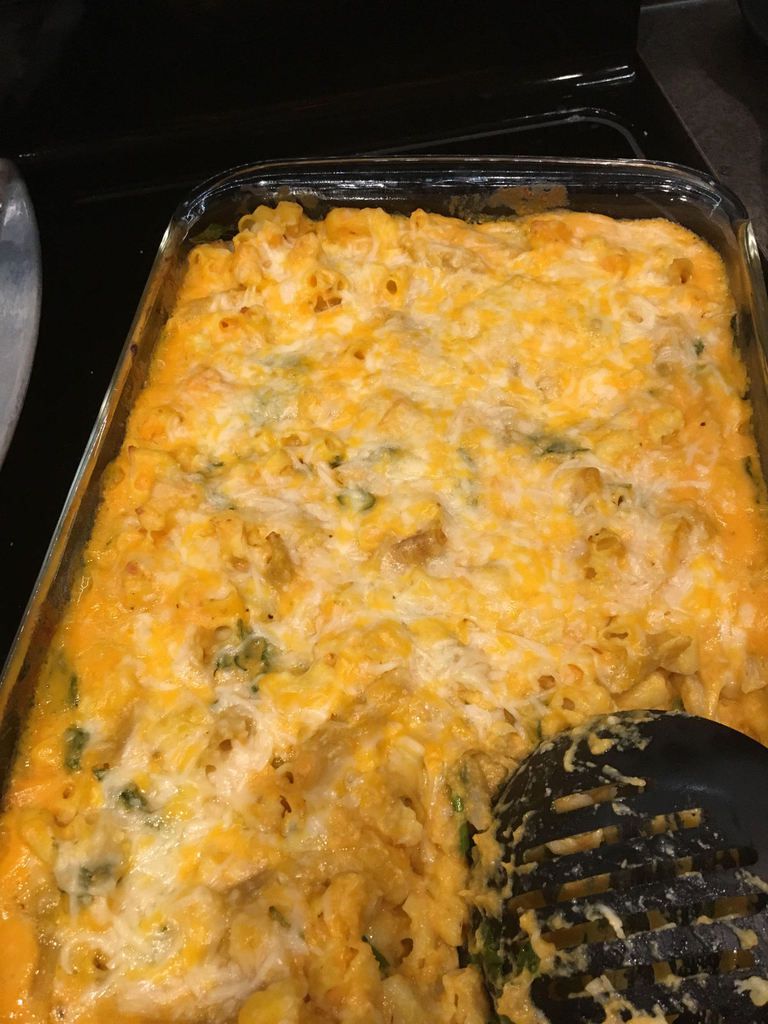 Love macaroni and cheese but not all the calories? Here's a way to healthy it up a little.
I'm not saying this is exactly health food. It still has cheese and pasta but it's mixed with some goodness that your body will thank you for.
So yummy and creamy!
Ingredients

2

medium sweet potatoes (peeled and cubed)

3

cups uncooked whole wheat or ancient grains pasta

2

tablespoons unsalted butter

2

tablespoons unbleached all-purpose flour (or wheat flour)

1

clove garlic minced

2 1/2

cups whole milk

1/4

teaspoon salt

1/4

teaspoon black pepper

3/4

cup shredded mozzarella cheese

3/4

cup shredded asiago cheese (or cheese of your choice - I used colby jack)

1/4

cup grated parmesan cheese

2

handfuls spinach (shredded)
Directions

Bring a pot of water to a boil, add sweet potato cubes and cook until tender (10 to 15 minutes). Drain and let cool slightly. Puree in blender or food processor, using a splash of the milk, until smooth.

Bring a pot of water to a boil again (you could use the same pot) with a pinch of salt and cook pasta as instructed (6 to 8 minutes0. Pasta should still be al dente (and not overcooked). Drain and set aside.

Preheat oven to 400˚F.

In a saucepan, melt butter and add garlic, over medium heat and cook for 1 minute. Whisk in flour and let cook for another 1 to 2 minutes. Whisk in remaining milk, salt and pepper; cook until mixture begins to thicken. Remove from heat and whisk in sweet potato puree. Mix together the cheeses and add 3/4 of the cheese mixture.

In a large casserole dish, add pasta, spinach, and cheese sauce. Mix until spinach is slightly wilted and pasta is well coated with cheese sauce. Sprinkle remaining cheese on top. Bake for 25 to 35 minutes until cheese on top is bubbling and browning.
I had a little less than 2 handfuls of spinach, in case you're noticing the green bits look light in my photo, so next time I would be sure to include more.
If you're watching your calories, you could go lighter on the cheese. It was definitely plenty creamy as you get a lot of the creaminess from the pureed sweet potatoes.
If you're following the portion fix eating plan, I would say that 1 cup of this would be:
4 yellows, 1/2 green, 4 blue
Yes, it's carb and fat heavy (even if it's good fats and carbs) so pair it with lean proteins and veggies. Compared to a restaurant meal, you're miles ahead!