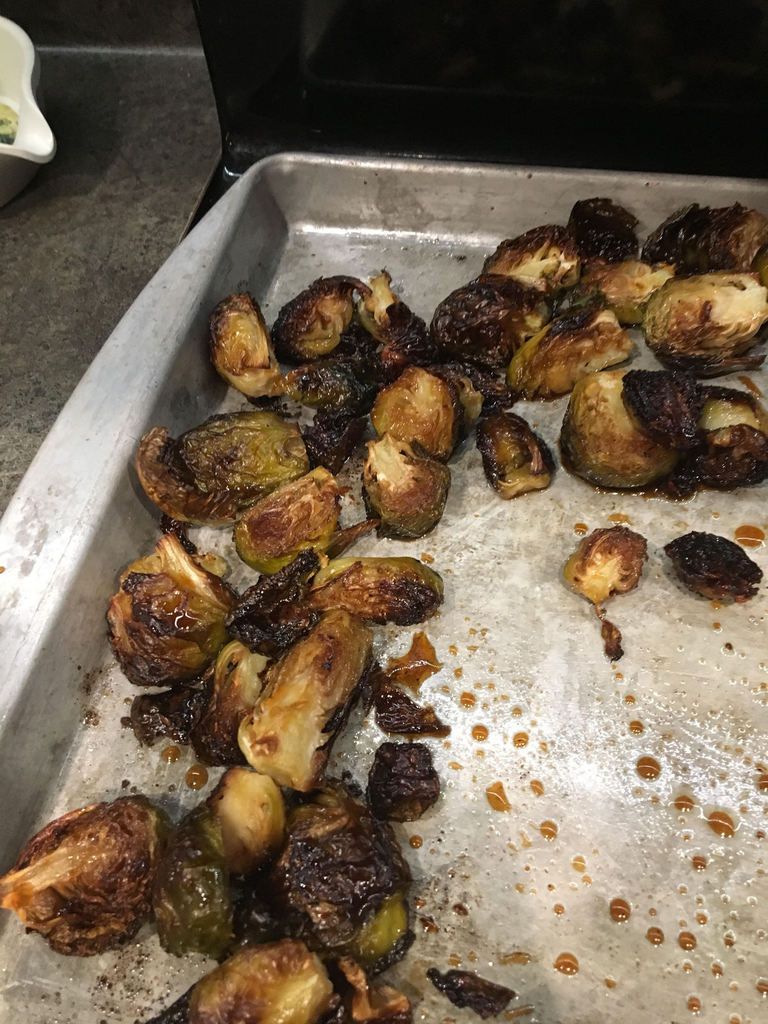 I've become a HUGE fan of those crispy brussels sprouts appetizers you see in restaurants. I'm sure they are fried in tons of oil that probably negates every healthy thing about the sprouts. Sometimes they're even paired with bacon. Yummy but high in calories.
I tried this recipe that bakes the sprouts until they are super crispy and then you coat them with a sauce that has an asian twist but doesn't taste super asian. TO DIE FOR!
I will now eat these with every meal. :)
Ingredients
1 pound fresh brussels sprouts
3 tablespoons olive oil
3 tablespoons coconut liquid aminos
2 tablespoons maple syrup
2 tablespoons lemon juice (I like Santa Cruz Organic)
1 garlic clove, minced
1 tablespoon Sriracha sauce
Pinch of black pepper
Pinch of pink himalayan salt
Directions
Preheat oven to 400°F and set a rack on the very top.
Prepare the brussels by cutting off the base of each sprout, slicing them in half from top to bottom (or in smaller pieces if they are very large sprouts) and removing the excess or loose exterior leaves.
Soak the cut brussels for a minute in water or rinse them in a colander to clean them.
Drain and spread Brussels out on a paper towel to dry while the oven is preheating.
Spread the brussels out on a large baking sheet with a lip.
Generously drizzle the brussels with the oil and sprinkle with salt. Stir with your hands to ensure brussels are all well-oiled and salted.
Place in the oven on the top rack for 60 minutes. A couple of times through the baking, stir the brussels to ensure all sides get crispy and charred.
During the last 5-10 minutes of cooking, reduce remaining ingredients (liquid aminos, maple syrup, garlic, sriracha, lemon juice and black pepper) in a sauté pan over medium-high heat until sauce is thickened (about 5 minutes).
Remove brussels from the oven once all brussels are crispy and slightly charred.
Drizzle the reduced sauce on top. Do this a little at a time as you don't want the brussels to be soaked in sauce so they retain their crispy texture. You may have a little leftover sauce.
Eat & enjoy!
If you're following the Portion Fix meal plan, 1 cup of this would equal:
1 1/2 green containers, 1 spoon, 1/4 yellow
To be informed of the latest articles, subscribe: