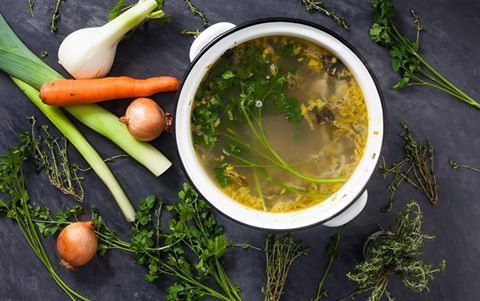 Think healthy food has to be boring? I know what you're thinking...eating healthy means I have to live on chicken breasts and broccoli or salads. While you could do this, there are tons of clean eating and healthy recipes out there. Check out my pinterest pages for inspiration: https://www.pinterest.com/jsmith0905/
Even simpler than that, think about ways to add flavor to your food without adding calories. Here are some tips I got from an article published by MyFitnessPal:
- Add CITRUS
Sure, most of us know that lemon or lime juice can be added to veggies, fish or salads. What about orange, grapefruit or tangerines? It's super easy to make your own vinaigrette salad dressing, stir fresh citrus into yogurt or oatmeal, or marinate some meat.
- CELERY
Celery can add crunch and color to dishes like pasta and creamy salads (like potato salad or chicken salad) and it has virtually zero calories. It can also serve as a vessel for holding nut butters (ants on a log anyone?), chicken salad or hummus. Use it as a topper on soup instead of croutons or bread.
- GARLIC
Quickly saute garlic in olive oil to mellow out the flavor then add it to a vinaigrette, sauces, soups, marinades, etc.
- GINGER
We're talking fresh ginger, not dried. You can add it to vinaigrette or hearty soups or you can top your fish with it, marinate pork with it or add it to smoothies, muffins and yogurts.
- FRESH HERBS
Think mint, thyme, basil, and tarragon. Fresh herbs are much stronger in flavor and fragrance than dried. You can add them to just about anything from soups to meats to yogurts to smoothies to chicken salads.
- STOCK
Chicken, Vegetable, Beef, Mushroom, Seafood...stocks can add richness and depth to lots of dishes without adding calories. Boil rice or other grains in stock instead of water. Use it instead of cream in mashed potatoes. Drizzle your meat with it to keep things moist. Steam your veggies in stock rather than water. Be sure to go for the low-sodium options!
- NUTRITIONAL YEAST
It's cheesy and nutty flavor and contains protein and vitamins with only 20 calories per tbsp. Use it like you would parmesan cheese.
- BALSAMIC VINEGAR
Capable of so much more than just salad dressing. Try adding a bit to beef stew, marinate your meat with it or drizzle it over a cooked dish.
- MISO
This also has a nutty flavor and can be added to soups, sauces, marinades, dressings and dips. Add some to your water for boiling grains. Add some to ground beef or ground turkey for added flavor in your burgers.
- PEPPERS
These can range from mild bell peppers to spicy habaneros. Try putting some bell peppers on salads, sandwiches and tacos to add some crunch and flavor. Spice up your chili, omelets, tacos, sauces and soups with some of the more potent varieties. An alternative would be some hot sauce to add a little kick to your dishes.
WHICH OF THESE OPTIONS WILL YOU TRY? Let me know below.
The nutritional yeast was a new one for me that I will definitely be giving a shot!
To be informed of the latest articles, subscribe: