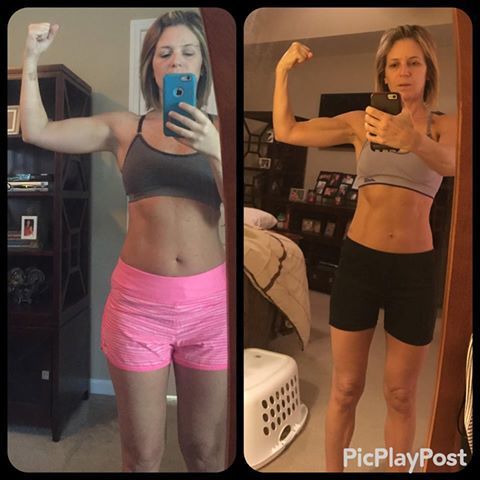 Happy Anniversary TO ME!
🎉
🎊
🍾
⬇️️⬇️️⬇️️
It's my one year anniversary as a transformation coach.
🙌
One year ago, I decided to take my health and fitness journey seriously. I committed to a lifestyle change that included daily workouts
💪 and nutritious eating plans
🍎.
To hold myself accountable, I decided to make the journey public. As you know, I post my daily workouts and a lot of my food on social media. It helps me stay on track when I know people are watching.
👀
As I started, I thought if I could inspire someone else to live a little bit healthier, that would be an added bonus
➕ . So, I signed up to be a coach.
Little did I know....that decision would change my life!
😍
Not only have I been on a transformation journey myself (both inside and out) but I've been able to help so many people on their own journeys. Seeing others change their lives is the most rewarding experience! I love seeing them realize they are capable of the things they once thought impossible.
👏
The transformations come from the inside out. It's a process of showing up and pushing play
💻 on that workout every day and focusing on the right nutrition. Committing just for that day, or that week. Setting those small goals, achieving them
🏆 and then setting new goals. It's seeing the light bulb
💡 go off in someone's head when they realize they CAN do it and it's not as hard as they thought it would be.
Seeing that once, you commit and stick to it, the results start to happen. Feeling the difference just between week 1 and week 2 and then again from week 1 to week 4. Hearing the stories of change and empowerment. That inspires me!
💕
I know, on my own journey, that commitment and consistency has resulted in a confidence I never had before. I know I am capable and strong
💪 and that I have the ability to help people realize that about themselves as well. The physical transformation was my initial motivation but changing lives has become my purpose.
Bonus, I get to do it for an organization that supports and encourages it's network like nothing I've ever seen before. And, I get to recommend products to achieve the transformation that are revolutionizing the fitness world. I don't recommend anything I have not personally vetted for effectiveness and results.
The photos
📷 below represent the before and after comparison on the outside which is significant. They can't show you the transformation on the inside so you'll have to trust me that I've never felt better. I have the energy, inspiration, purpose and passion I'd been looking for but didn't know where to find. I swear my heart for this grows every day.
💗
Fist bump to everyone who's been along with me for this ride.
👊
Who wouldn't want to be a part of this?