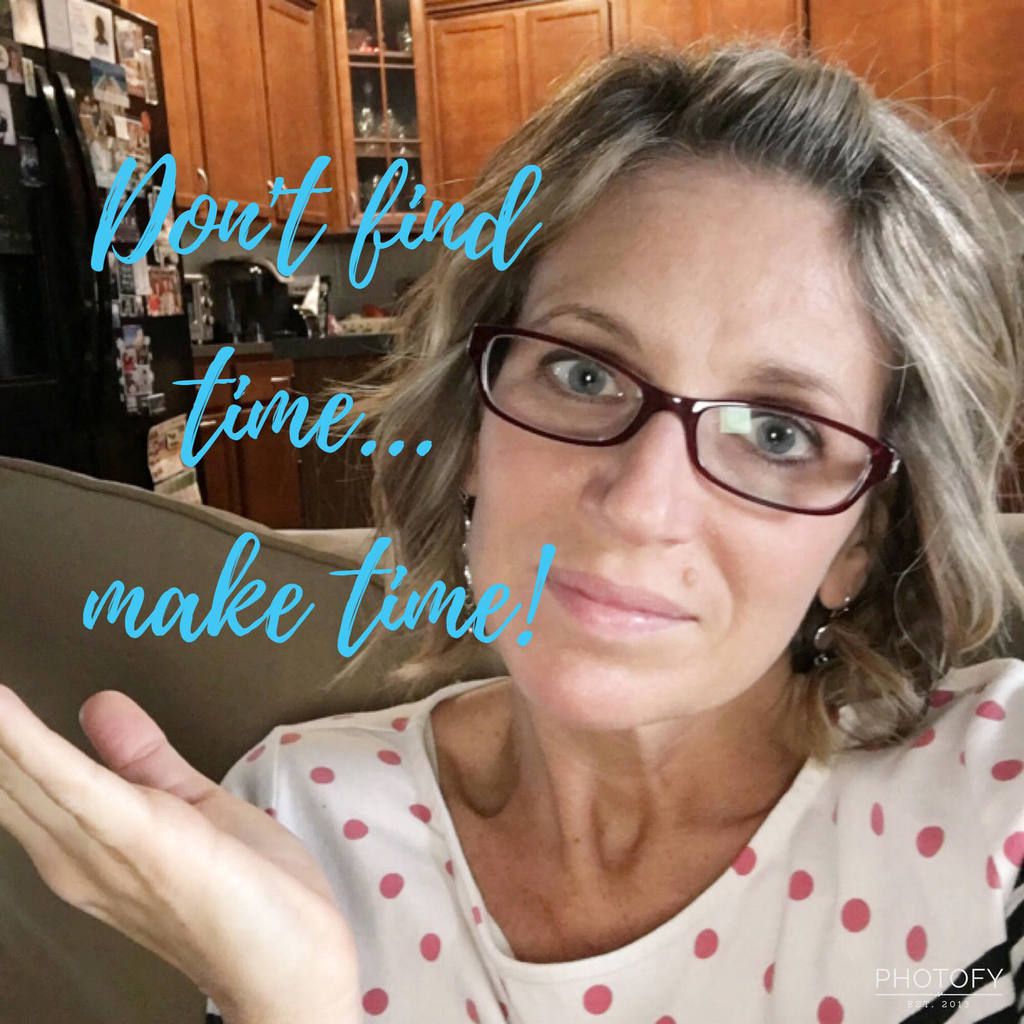 It's a new month. No, it's not January anymore but you don't need January 1 to make a resolution to make a change. TODAY can be the day you change your future!



I know...you're busy....it's not the right time...you just don't have time. What if I could help you find the time?

Here are some of my best tips:

1. Meal Planning/Prep

So much time is wasted cooking or eating out. If you pick one day per week that you prep everything, you can save time every day and free up at least 30 minutes for a workout.

You might also consider grocery delivery or pick up. I LOVE Kroger Click-List as a time saver. Well worth the $5 to have them gather everything up for me and bring it to my car.

There's also meal delivery with companies like Blue Apron and Hello Fresh. They give you all the ingredients and the recipes so you don't have to think about meal planning or grocery shopping.

Lastly, I love my crockpot. If you plan ahead with your ingredients, you can just throw it all in the crockpot in the morning (or even the night before) and it's ready to go when you get home from work, kids school activities, etc.

2. Say No to More Things

It's ok to say no so your time isn't over-committed. Make time for the things you want to do. Have a yoga class you really want to take on Tuesday nights. Turn down the Tuesday night meetings that would take you away from that.

Be sure that the activities you're committing yourself to are things you'll enjoy rather than time-fillers and obligations you will dread. Ask yourself if the activity energizes you or drains you. And, whether that activity will get you closer to your goals. If the answer is no to both those questions, skip it. You've got better ways to spend your time.

3. Cut down on distractions

How much time do you really spend on social media? Watching tv? Reading? Talking on the phone? I'm not saying these aren't ok but could you spend 30 minutes less per day on them so you have time to fit in that workout?

If you prioritize working out, you'll do it before you do these other things. Perhaps you can use social media or tv as a reward for the work out. Like, for every 30 minutes you spend working out, you get an hour of tv time?

Invite friends to workout with you if that social interaction is important. Then you kill two birds with one stone.

Once you find that extra time, how can you maximize your workout so it takes as little time as possible?
Here are some tips for that.

1. Schedule your workouts

Treat them like an appointment that is non-negotiable. Put it on your calendar and don't let anything trump it.

Bonus: If you schedule them in the mornings so it's done before your day gets away from you. Plus, if you do happen to have something crazy happen in the morning, you'll have other chances to make it up later in the day.

2. Avoid the gym at prime time OR workout at home

You can waste a lot of time waiting for machines at the gym at peak times. Want to save even more time, workout at home and avoid the drive to and from.

3. Get enough sleep

Sleep helps your body function better. Your workouts will be better, you'll be more motivated and you'll be less likely to make excuses as to why you just don't feel like it.

I hope these tips help! If I can answer any questions, please comment below or DM me. If you've got a workout program you love, awesome! If not, reach out and I'm happy to make some recommendations.
To be informed of the latest articles, subscribe: