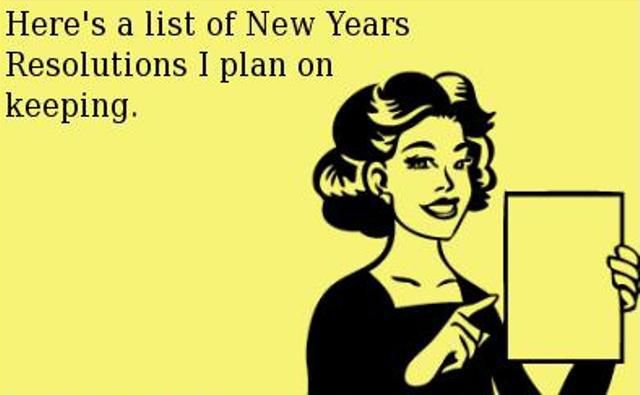 Having trouble sticking to these new years resolutions to workout more and eat better? Already fallen off the wagon? That's ok! Never too late to start over. Here are my top 10 tips for making your resolutions stick.
Did you make a resolution to run a marathon this year but you don't run? Maybe start a little smaller. Aim for a 5k and follow a couch to 5k program. You want to workout 6 days a week but just can't seem to fit it into your schedule, start with 3 and work your way up. If you make small changes first, you're more likely to stick to it.
Consider WHY you made that resolution. They why is what keeps you going when things get tough and the excitement of starting something new wears off. Maybe your why is that you want to be healthy for your kids...you want to rock any outfit you choose....to get better cholesterol test results and avoid medication...have enough endurance to hike a mountain.
Whatever your why, write it down. Post it somewhere you'll see it as a reminder every day you don't want to workout or you want to eat that meal you know you aren't supposed to have.
3. Make exercise convenient
The easier you make it, the more likely you'll do it. So, lay out your workout clothes the night before (bonus: this adds some guilt if you don't actually do it). Workout at home if you can't get to a gym. Online streaming workouts are always available at your fingertips via mobile device, laptop or smart tv. Do workouts that don't require equipment so there's no excuse for not having what you need. Keep your workout clothes in your car so you're always ready.
4. Become a morning person
I know...easier said that done but hey, if I can do it, you can do it. The benefits of working out in the morning are that it's much less likely for something to get in the way. Do it before anyone else in your house is up to distract you. If something crazy does happen, like your alarm doesn't go off, you can still make it up later that day. Bonus: you'll jump start your metabolism and start your day feeling great that you already got that workout in!
Workout with a friend for extra accountability and support. No friend to workout with, there's any number of online support groups and accountability communities. For added accountability, post your workouts on social media. People will expect you to show up every day and will notice if you don't and you definitely won't want to let them down. For me, that social media accountability has been the best motivator possible.
6. Combine it with a reward
Can you combine your workout with something you enjoy but don't have time to do? Maybe it's an audiobook or podcast, maybe it's listening to your favorite music, watching your favorite tv program or movie. Pick the right motivator and you'll look forward to that workout.
Think you have to run to get in shape and you hate running? Find something you enjoy. There is no shortage of options from zumba to spin class to dancing to kickboxing to yoga. If you enjoy the activity, you're more likely to show up. If you find yourself dreading your workout, try something new and keep trying something new until you find something that works for you.
8. Rely on positive memories
Had some success in the past? Highs related to physical fitness or weight loss? Maybe you finished that 5k with a personal best....lost 20 lbs and felt awesome. Think about how great you felt and how awesome it would be to feel that way again.
Nothing will take you off track faster than an injury. Remember to warm up and to stretch to avoid injury. Also, try not to do the exact same thing every day to avoid over stressing any specific muscles or joints. Switching things up, not only give your body time to recover but it also keeps things interesting and you from getting bored.
The more knowledgable you are about health and fitness, the more likely you are to stay on track. Read blogs, sign up for email newsletters and follow motivating social media posts that help you stay up on the latest trends and encourage you to keep going.
I hope these tips help! If you have something that's working for you, that's great! If not, reach out and I'm happy to provide some recommendations.
To be informed of the latest articles, subscribe: