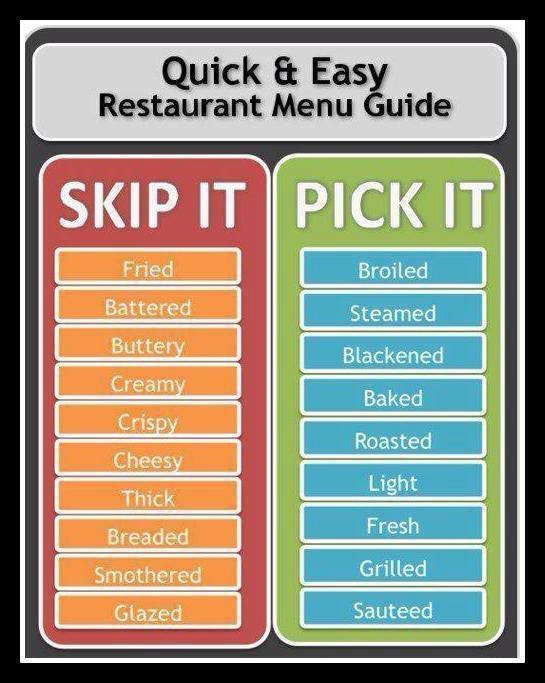 Your fitness journey is a lifestyle change, not a short term fix. It's important to learn how to incorporate your healthy habits into normal social settings without blowing your calorie counts.
So, what happens if there's a social or work event that requires dining at a restaurant? Don't panic! Eating out while watching your diet can be tricky, but with a little preparation you can succeed.
5 Tips for Planning Your Dinner Out
Select a restaurant with healthy menu options - Check out the menu online and decide what you'll order before you get there.
Adjust your calories for the day accordingly, so you don't exceed your limit.
Get your workout in ahead of time. You likely won't feel like it after eating out.
7 Tips for Healthy Eating On the Go
If it's spontaneous and you don't have time to strategize, don't worry. These tips will help you eat out without derailing your progress:
Avoid alcohol ― stick with water, unsweetened teas or drinks without added sugars.
Practice portion control ― eat half of your entree and ask for a doggy bag for the rest.
On the side ― order salad dressings and sauces on the side, adding only the amount you need.
Steer clear of fried and sautéed dishes ― opt for grilled, steamed or broiled dishes instead.
Assert yourself ― don't be afraid to ask for modifications or substitutions to make your order healthier; your server should be happy to accommodate your requests.
Take your time ― eat slowly to give your stomach enough time to tell your brain you're full.
Swap out starchy sides ― trade potatoes, pastas and bread for steamed veggies or a side salad.
Don't forget to forgive yourself if you have the occasional slip up. Accept it, learn from it and make your next choice a good one. One mistake does not define you!