Who indulged a bit too much over the holidays and vacation? This girl right here! Do I regret it? Nope, not a bit. I hadn't taken a break from working out since summer and my body was telling me to rest. I'd gotten to my goal weight (actually a little below) so I felt ok with relaxing for a bit. Plus, we all need to reward ourselves now and then. So I....
🍪 Ate the cookies
🍷 Drank the wine
🍹 Enjoyed the fruity drinks at the pool on vacay
🏃 Worked out less than normal
🍰 Had dessert at every meal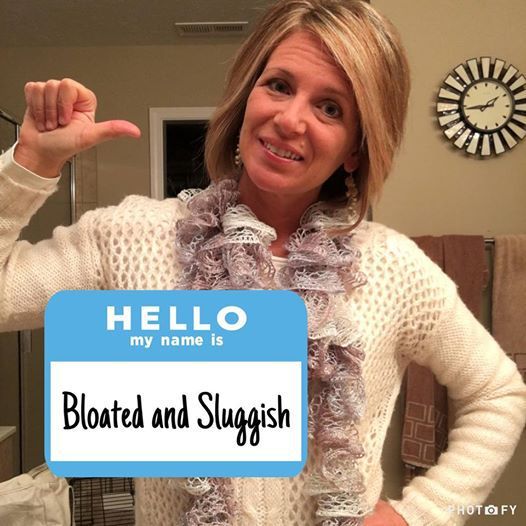 Yes, I still worked out some and drank my Shakeology every day BUT I gained 5 lbs due to sodium, carbs, and lack of activity. It may have been fun but it's taken it's toll. I feel tired and sluggish and I'm bloated. Seriously, can you see the bags under my eyes???

Once I got back from vacation, it was TIME TO GET BACK ON TRACK!

Starting with the 3-Day Refresh today to detox from all the sugar, cleanse my body of carbs, dairy, alcohol, etc. and prepare it for my new fitness program that starts on Monday. It's three days of protein shakes, fruits and veggies. My husband, Mark is doing it with me and it's great to have that support. It means I'll do all the food prep and cooking but that's ok. :) :)

I know that by the end of these three days, we're going to feel so much better and be ready to tackle the new year head on!!!
Day 1 of the 3 Day Refresh is in the books and we survived! Actually, it hasn't been bad at all. Neither of us were starving. I had a bit of a headache but I think it's more from a stuffy head than the lack of caffeine. I'm hoping this Refresh will knock whatever crud is lurking around from our flight home the other night out.
If you're not familiar with it, the Refresh involves mostly shakes and fruits and veggies. The schedule looks like this:
Shakeology nutritionally dense shake for breakfas

t plus a serving of fruit. I opted to put my strawberries in my shake this morning.
Mid morning Tea (optional) - I did drink some green tea so I could clear my foggy head a bit.
Also mid morning Fiber Sweep - This drink gets a bit clumpy if you don't drink it fast but I actually don't mind the taste. It's kind of lemony and sometimes I add more lemon juice and/or cinnamon to it.
Lunch of a Vanilla Shake, serving of fruit, serving of vegetables and a healthy fat. My lunch today was a kiwi and bell pepper with hummus.
Mid afternoon Tea (optional) - I was hoping to ward off a cold so I drank some caffeine free tea.
Late afternoon snack of a serving of fruit, serving of veggies and a health fat. I opted for some snap peas with hummus and some mixed berries.
Dinner of another Vanilla shake and a vegetarian dish. The kit comes with your recipe options. Tonight we tried the Carrot-Seaweed Medley. It looked pretty. It wasn't bad, wasn't great. Edible and I'm full now so all good.
I will admit that after the last month of eating pretty badly, today was harder for me than it's been in the past. Partly because of the sugar/carb cravings but also because I went to the office today and passed by all the food in the snack room and smelled people's lunch cooking.
To read more about my past experiences and what the 3-Day Refresh is all about, check out my previous blog post.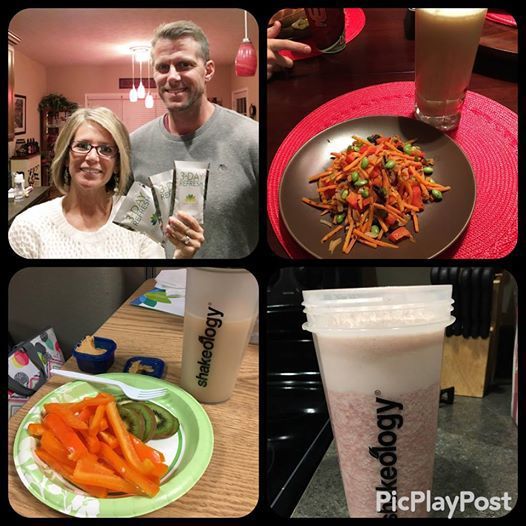 Day two of the 3 day refresh was rough for me as I'm apparently fighting some kind of bug. I almost quit this morning thinking I want going to be able to hold down food but everything worked out OK. Made it through and Mark cooked dinner since he didn't want my germs on his food. One day to go! I haven't weighed myself but I can already tell a difference in how I look and how I feel.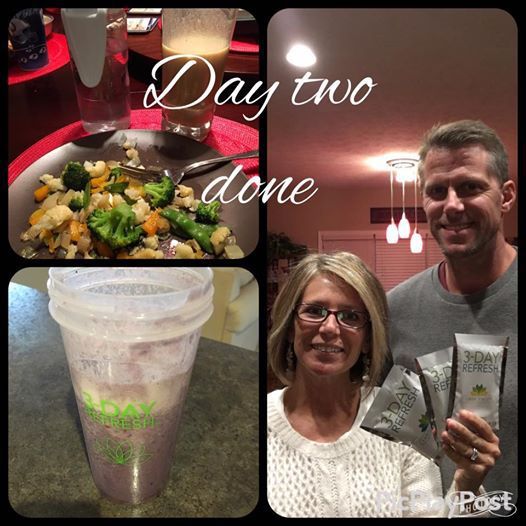 Day three and things are getting a bit easier. I had some cravings the night of Day 2 but they are going away. I'm feeling better and am convinced that regular Shakeology and this Refresh as knocked out the bug almost before it started. The only "cheats" I have had were some extra fruit on Day 2 because of being sick. When I say extra, I mean that I ate a whole banana instead of a half and I had some extra berries for "dessert" as I was still hungry. But, I did not cheat with foods that aren't allowed.
Mark did good too. He may have a had a bite or two of foods not allowed and he may have whined about wanting a snack since Day 3 is technically done after dinner but I wouldn't let him. :) The Refresh is not officially over until Day 4 when you can do a final weigh in.
So, what kind of results did we get?
Mark didn't take any before/after pictures BUT he lost 11 pounds. I know half of that was probably water retention and bloat from traveling that would have come off in a few days anyway BUT he is back to his post Ultimate Reset (for more info on that visit my previous blog post) weight which is awesome considering how poorly he ate all of December.
As for me, I didn't take measurements but I did take photos and weigh in. I lost 4 lbs and am back to my pre-vacation weight. You can see my abs again, the bloat is gone, my skin looks better and the bags under my eyes are gone. Check out the before and after.
More important than the weight loss, is the way I feel. I no longer have the strong sugar cravings I had a few days ago and I really want to keep eating well. This 3-Day Refresh does it for me EVERY TIME. It's the best way I know to get back on track.
Do YOU need a Refresh to detox from the holidays? Contact me for how you can do it too. I can help guide you through with some tips, tricks and advice to get your best results.
Email me at janetsmith0905@gmail.com or complete this online form to tell me a little more about you.
To be informed of the latest articles, subscribe: