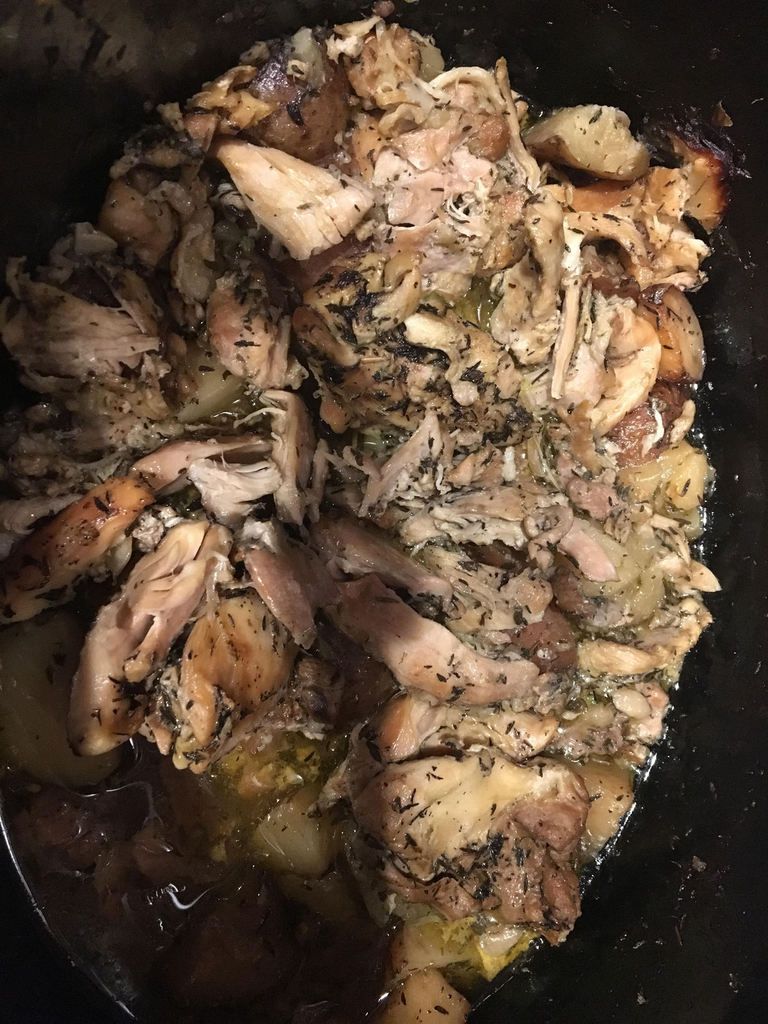 Another new recipe at the Smith house tonight. This is slightly modified from a recipe I found online: http://www.delish.com/cooking/recipe-ideas/recipes/a46066/slow-cooker-garlic-parmesan-chicken-recipe/
It was delicious and super easy. I will definitely be making this again!
Ingredients:
3 lbs Chicken Thighs (boneless, skinless)
Olive Oil (enough to coat the pan if cooking the chicken first and to toss the potatoes with)
Pink Himayalan Salt and Black Pepper to taste
1 lb baby red potatoes (quartered)
2 tbsp butter (unsalted and melted)
5-8 gloves of garlic (chopped)
2 tbsp ground/dried thyme
Grated parmesan (optional)
Directions:
Cook chicken thighs in pan on stove (in olive oil) until golden on the outside (about 2-3 minutes per side). I'm not sure this step is necessary as it will cook thoroughly in the crockpot. If you prefer your chicken browned before cooking do it. If you don't care, I might try just throwing it into the crockpot. If you do brown them, put a little salt and pepper on them in the pan.
Put potatoes into crockpot, toss with olive oil, thyme, butter, garlic, salt and pepper.
Add chicken. Mix it all together.
Cook in high for 4 hours or low for 8 hours.
Top with grated parmesan and serve.
I actually forgot the parmesan and it was tasty. If you're following the Portion Fix eating plan or watching extra calories, skip the parmesan.
For Portion Fix: a serving size is 1 yellow (potatoes), 1 red (chicken) and 2 spoons (olive oil and butter). If you add the cheese, that would be a blue.
To be informed of the latest articles, subscribe: