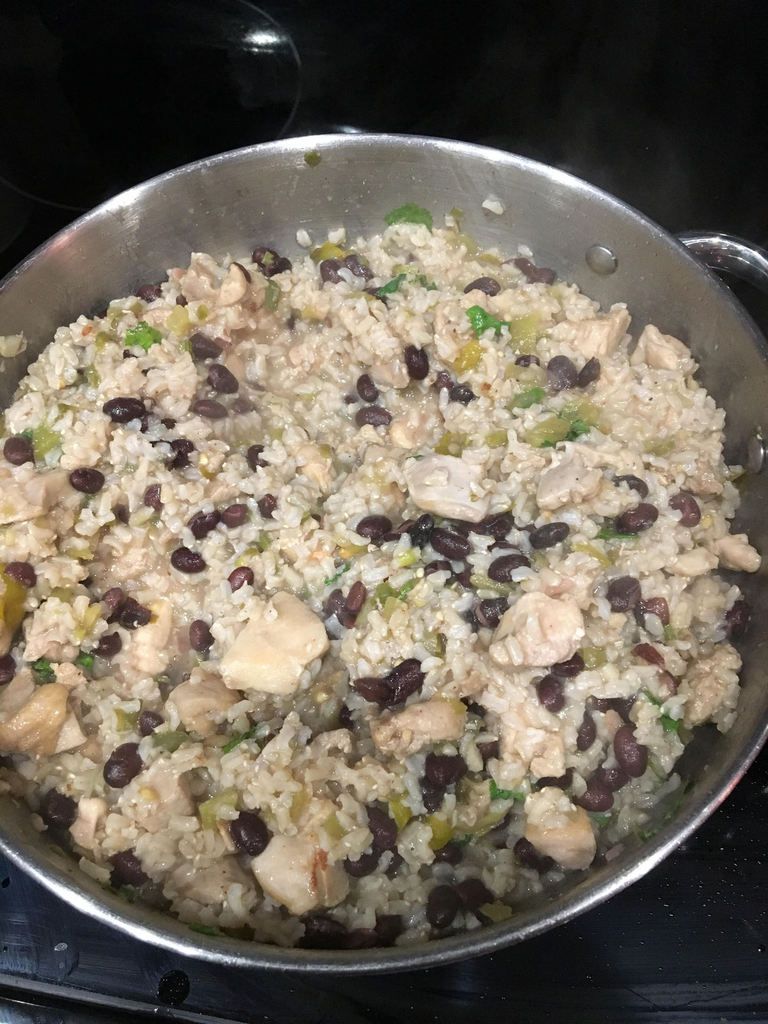 Tried a new meal for dinner tonight. It's a pretty easy recipe and it was well received. If it made it again, I'd have a few tweaks. My goals would be that the boy (12) didn't add Tabasco to it!
Ingredients:
1 lb boneless, skinless chicken breasts of thighs (chopped into cubes)
1 tbsp olive oil
Salt and Pepper (I used pink himalayan salt)
4 green onions (chopped)
2 cloves garlic (minced)
1 cup low sodium chicken broth (organic if possible)
1 4oz can green chilis
1 jalapeno or serano pepper (chopped)
3 tbsp lime juice
1 (14oz) can black beans (rinsed and drained)
2 cups rice (I used long grain brown rice)
1/3 cup cilantro
Directions:
Cook rice according to package (for more flavor use chicken broth instead of water.
While rice is cooking, heat olive oil in sautee pan until hot, add chicken. Season with salt and pepper and cook through (about 6 minutes). For last minute, add green onions, jalapeno pepper, garlic.
Stir in chicken broth, black beans, lime juice and green chilis. Season with salt and pepper to taste. Bring mixture to a boil and add cooked rice to pan. Allow to boil for 20 seconds, then remove from heat. Cover and set aside to rest for 5-6 minutes.
If there is still liquid in the pan, put back on heat for a minute or two until absorbed.
Remove from eat, stir in cilantro and rest for 3 minutes before serving.
This did have a good flavor from the lime juice and cilantro. If I make this again, I will add some more seasonings like possibly paprika and cumin.
If you're doing the Portion Fix Eating Plan one serving of this (about a cup) would be 1 yellow, 1 red and 1/2 green