Heading into week 4, I cannot believe how fast the last three weeks have gone. I'm not going to lie, the longer workouts have been a challenge. I got quite used to 30 minutes a day. And, while you can get great results with that, after a while it was a good thing to push my body a little more. Plus, imagine that if you can get great results in 30 minutes a day, what those extra few minutes do. Once I'm in it, it's never a problem. Really, it just means getting up earlier. However, full confession here, I kind of started getting up earlier on days we have our stepson (which is most days) anyway so that I can avoid the stress of the boys in the kitchen when I'm trying to have my peaceful time.
Anyway, I mentioned in my last post (if you missed it, read it here) that the Core De Force workout switched up your eating plan each week. Last week I had an extra fruit and an extra healthy fat because the workouts started to intensify. Well, this week, we are back to the core eating plan from week 1. Why? To ensure the best results possible. We added foods previously to avoid plateau and give our bodies enough fuel.
Do I think it works? Absolutely! I haven't been following the eating plan 100% - yep, it's hard with how life goes sometimes and it's all about balance. Caveat...I'm in maintenance mode with my weight. If I were still trying to lose weight, I would have followed it more closely. Anyway, I haven't always been eating my best but I have been logging my containers and faithfully doing my workouts every day and I'm actually down a pound without trying. The bigger difference is in my strength. I could do real pushups on my toes before but now I can do more, faster. My legs feel stronger and my core is more toned, despite the overindulges some days.
Here's what week 4 looks like.
Monday: MMA Plyo + Core Kinetics
Yep, this one is still my favorite workout. Now that I'm getting the hang of the combinations, I was able to up the intensity and speed. Also, my back, which has been giving me trouble, all of the sudden decided to feel better so that helped me take it up a notch. Not sure what's going on there...maybe I pushed through it and have come out on the other side. On top of that my ankle/foot injury seems to be behaving so I added (almost all of) the jumps back in. I was wiped out by the end but it felt so good!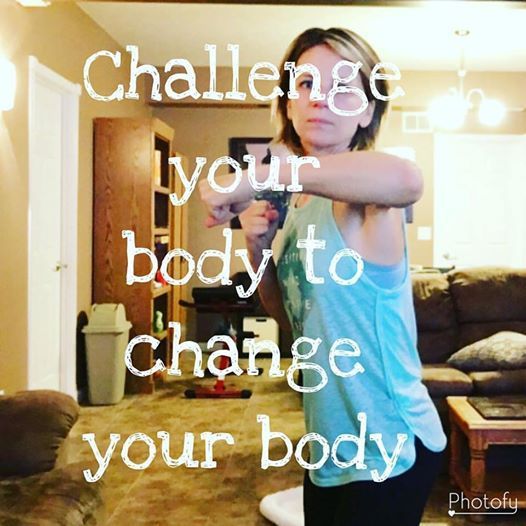 Tuesday: Power Sculpt + 5 min core on the floor
Back to all the crazy moves. I do like this one but it is definitely challenging. Again, I pushed harder today and was so out of breath by the end that the dog was staring at me. And she gave me a little help during core on the floor at the end. Check out the video below.
Keep in mind this is 5 minutes of workout, sped up to about 20 seconds but it's kinda fun to watch!
Wednesday: MMA Plyo + 5 Min Core on the Floor
I'm out of town for work and we had a dinner event that lasted later than I expected last night. I've got an early morning meeting start but I'm up at 5:30 to get my workout in. I have to use a little creativity in my hotel room to find the space needed to workout. Luckily this workout doesn't require more than about a 4 foot area. Honestly, I could have made all these excuses this morning to NOT workout but with Beachbody on demand, I really have no excuses. Plus I needed to burn off a few extra calories I consumed last night. My one adaptation was that I was supposed to do Core Kinetics today which is 16 minutes and I ran out of time. So, I subbed in the 5 minute Core on the Floor workout and will make up Core Kinetics tomorrow when I, hopefully, have a few more minutes. Now I'm ready to start another long day because I kicked it off right.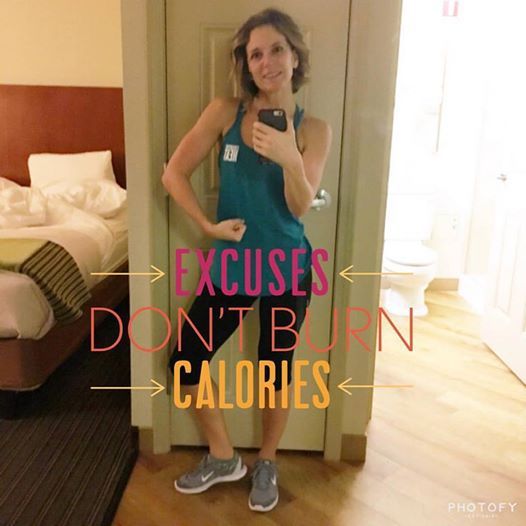 Thursday: Dynamic Strength + Core Kinetics
As I mentioned, I ran out of time yesterday so I swapped 5 min core for today. I didn't love being up at 5:30am. I didn't love my foggy head this morning from one too many cocktails last night. I didn't love doing bunches of planks, pushups and situps on a hotel room floor. But, guess what? I did it anyway. My head is now clear, I'm ready for the day and I don't have to worry about where I'm going to fit it into my day later.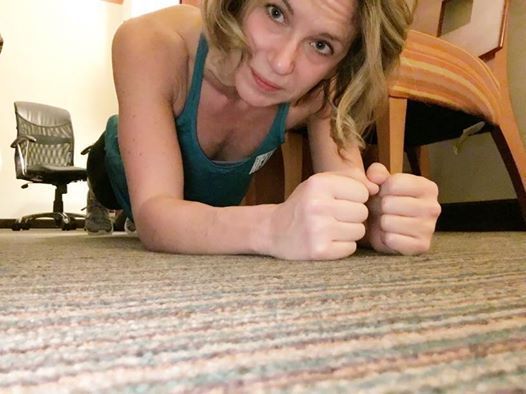 Friday: MMA Speed + Core Kinetics
Back to the short workout. YAY! It's nice they let us revisit this one. Seemed so much easier than it did when we first started and my progression on the form allowed me to intensify the moves. Core Kinetics two days in a row was a bit tough but I made it through. I'm sure my core is getting tighter and stronger...right??
I recorded Core Kinetics today, complete with dog antics during the workout for your viewing pleasure. I hope you get a few laughs. And, you just might want to do the workout along with me. It's only 16 minutes...
Saturday: MMA Shred + Core Kinetics
It took me all day to get this in. Yep, I did not practice what I preach today. It's been a long week and I was tired so I chose to sleep in, knowing I'd have multiple chances to workout today. I sure didn't want to but YAY for MMA Shred. Again, feeling strong revisiting some of these shorter workouts. And then they go and add Core Kinetics to it. Three days in a row and my abs are on fire! I can feel the six pack coming. :)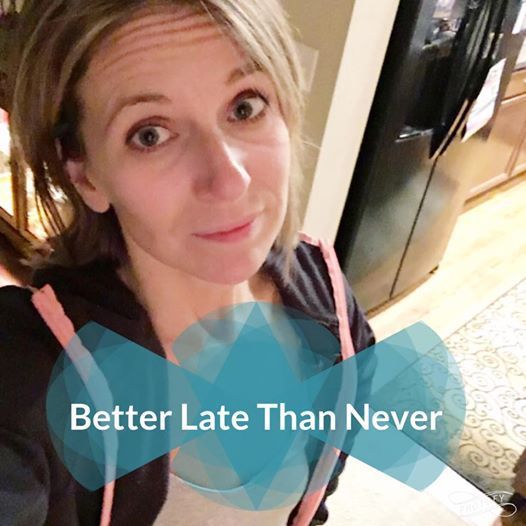 Sunday: Active Recovery
Nice chance of pace with the ability to take the moves slower, work on my form and stretch today. Gearing up for the last two days. Crazy to think that this round of 30 days is almost over!
When it's a lazy Sunday and an active recovery day, we might just work out in fun socks and Hannah Montana pajama pants. Long story how and why I own these pants but they are so comfy and I love them. Had a little helper today as well.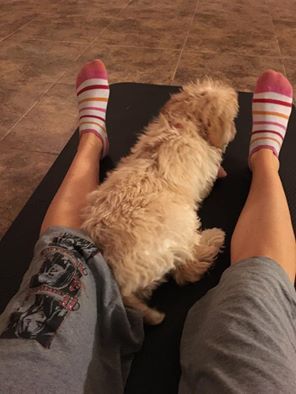 Two more days! This workout has flown by and I'm already ready to start round 2. But, I'm going to finish these last two days STRONG!
Stay tuned for my complete recap of the program coming soon!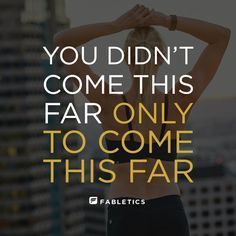 To be informed of the latest articles, subscribe: