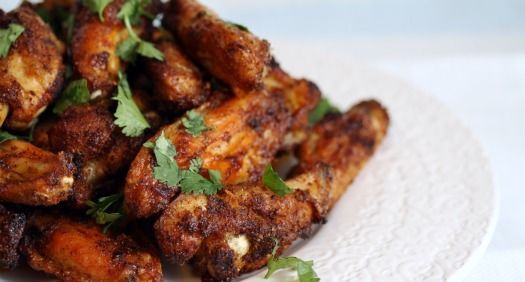 These are always a hit in my house and we had them for dinner last night, never any left overs. So, it may not be THE healthiest meal but it's a great alternative to restaurant wings drowned in high calories sauces.
I personally prefer a dry rub on my wings over sauce. My family doesn't, except when I make these wings. We like it spicy so I up the heat with spices like paprika, cayenne pepper and chili powder but you could back off on those and focus more on the garlic, onion, etc if that's not your style.
Ingredients:
1 bag of chicken wings/drumsticks (2-3 lbs)
1 tbsp garlic powder
1 tbsp onion powder
1 tbsp paprika
1 tbsp black pepper
1 tsp cumin
1 tsp chili powder
1 tsp turmeric
1 tsp dried cilantro flakes
Directions:
Preheat over to 375 degrees.
Combine all spices in a bowl and mix well. Lay out chicken pieces flat on cookie sheet. In order to keep the wings more crisp, I use a silicone draining tray. It allows the chicken to be above the grease. I've also used a cooling rack or something similar. Just place it on your cookie sheet between that and the chicken.
Spread spices evenly over both sides of chicken pieces until coated.
Bake for 15-20 minutes, flip chicken over and bake for another 15 minutes. Then broil for two minutes per side. Serve immediately.
If you're following the portion FIX, one serving would be about 5-6 wings and equal 2 red containers.