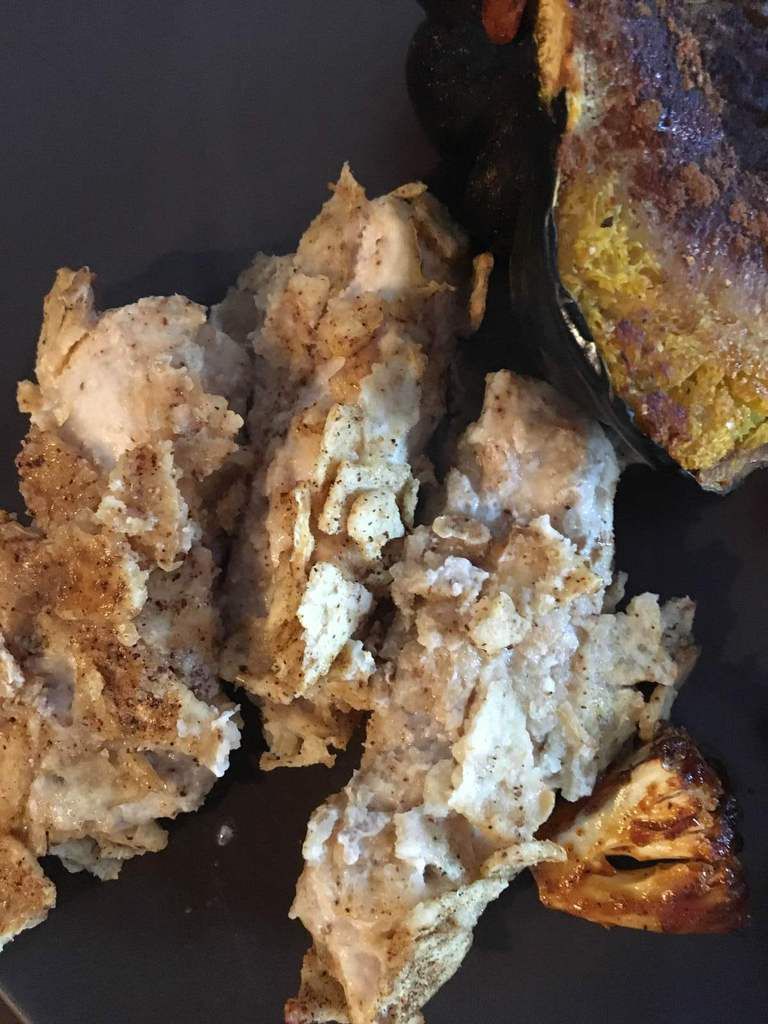 So, the picture may not be super pretty but it was pretty tasty. Even the kiddo approved.
If you want to spice up regular chicken fingers, and make it a bit healthier, try this recipe. It's baked, use organic ingredients and packs in some good flavor.
INGREDIENTS:
1 ¼ pound (8) boneless, skinless chicken breast tenders

1 teaspoon salt

Freshly ground black pepper, to taste

2 tablespoons all-purpose flour (or GF AP flour)

1 large egg, lightly beaten

3 1/2 oz crushed tortilla chips (I recommend organic and/or gluten free)

1 teaspoon garlic powder

1 teaspoon cumin

Olive oil spray
DIRECTIONS:
Preheat oven to 400F.
Season chicken tenders with 3/4 teaspoon salt and pepper. Place flour on a shallow plate and egg in a medium bowl. Place tortilla chips, remaining 1/4 teaspoon salt, garlic powder, cumin, and pepper on another shallow plate. Dredge each tender lightly in flour, then egg (shaking off excess), then chip mixture. Lightly spray sheet pan with olive oil, place tenders on pan and spray the top with olive oil. Bake about 8 to 10 minutes on each side or until cooked through.
I served with spicy cauliflower bites (that even the kid ate) and roasted acorn squash.
For 21 Day Fix, 2 Chicken tenders is approximately 2 red, 1 yellow container