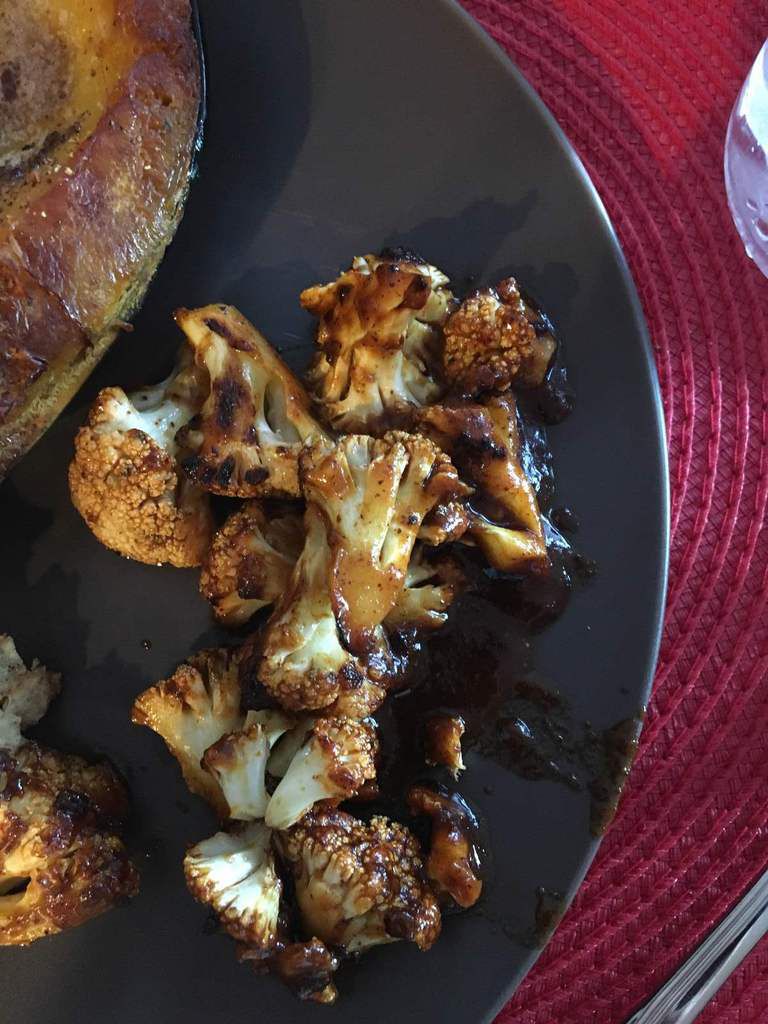 Think of these as kind of buffalo style but not super vinegary taste which is could because I do not like buffalo sauce. The 12 year old ate these without one complaint. I used pretty spicy hot sauce, I'm sure you could make them milder if you wanted.
Ingredients:
nonstick cooking spray
1 head cauliflower (cut into florets)
1/2 tsp himalayan salt (divided use)
1/2 cup hot pepper sauce
1/3 cup rice vinegar
1 tbsp cornstarch
2 tbsp ground chili powder
1/4 tsp smoked paprika powder
1/2 tsp garlic powder
1/2 tsp onion powder
1 tsp maple syrup
1 tsp worchestershire sauce
1/2 tbsp organic grass fed butter
Directions:
Preheat oven to 350 degrees.
Lightly coat baking sheet with cooking spray.
Place cauliflower florets evenly on baking sheet, coat lightly with spray and salt.
Bake for 20 min or until tender-crisp.
While cauliflower is baking, prepare sauce. Combine hot sauce, cornstarch and rice vinegar in medium sauce pan and whisk until corn starch is mixed in.
Add chili powder, onion power, garlic power, worchestershire sauce, butter, syrup, paprika to pan and whisk to combine. Cook over medium-high heat about 10 min (until sauce is thickened). Set Aside.
Pour hot sauce mixture over baked cauliflower (on baking sheet) and mix well to coat evenly. Bake for another 5 min.
Serving size 1 Cup. 21 Day Fix containers: 2 green, 1/2 orange, 1 spoon.
To be informed of the latest articles, subscribe: