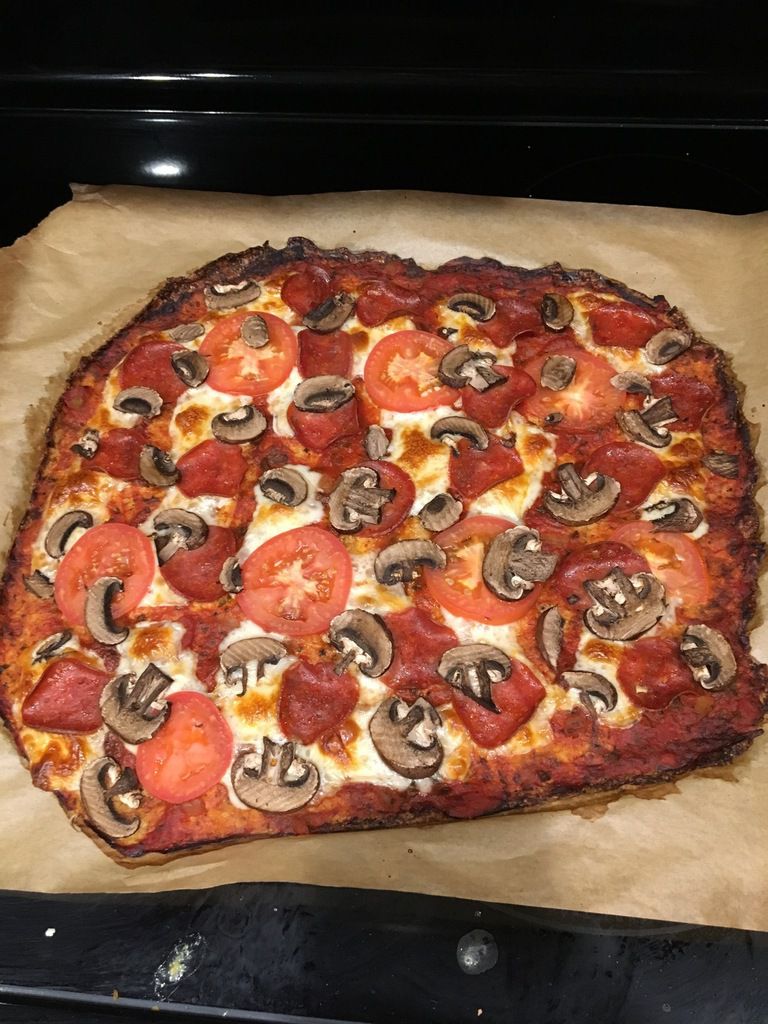 Love Pizza but looking to lighten it up with less calories and more health benefits? Gluten intolerant? Try making a cauliflower crust.
This turned out pretty good. The middle was a bit soggy so, doing it again, I might cook the crust a bit longer first.
Ingredients (crust):
1 head cauliflower (riced) or you can purchase the already riced cauliflower at Trader Joes - that's what I did.
2 Garlic gloves
1/3 Cup shredded Mozzarella Cheese
1/3 Cup grated parmesan cheese
2 eggs, lightly beaten
2 Tbsp dried oregano
2 Tbsp dried basil
1 Tbsp garlic powder
Ingredients (toppings):
1/2 cup marina sauce (or to taste depending on how saucy you like your pizza)
8 oz mozzarella cheese, sliced
1 roma tomato
4 large crimini mushrooms
15-20 slices turkey pepperoni
Directions:
Preheat oven to 425 and line baking sheet with parchment paper.
Combine cauliflower and garlic in mixer and blend until fine consistency.
Add shredded mozzarella, parmesan and egg and mix to combine.
Then stir in the herbs.
Press cauliflower mixture into a circle on baking sheet until it's about 1/2 inch thick.
Bake the crust until it's crisp and golden around the edges, 25 to 30 minutes. Remove the crust from the oven.
Spread marina sauce over pizza crust then add toppings to your liking.
Bake until the cheese is melted and bubbly, 15 to 20 minutes more.
Play around with toppings for whatever your prefer. This was what I had on hand tonight.
You could even brush crust with olive oil and skip the marina sauce.
To be informed of the latest articles, subscribe: