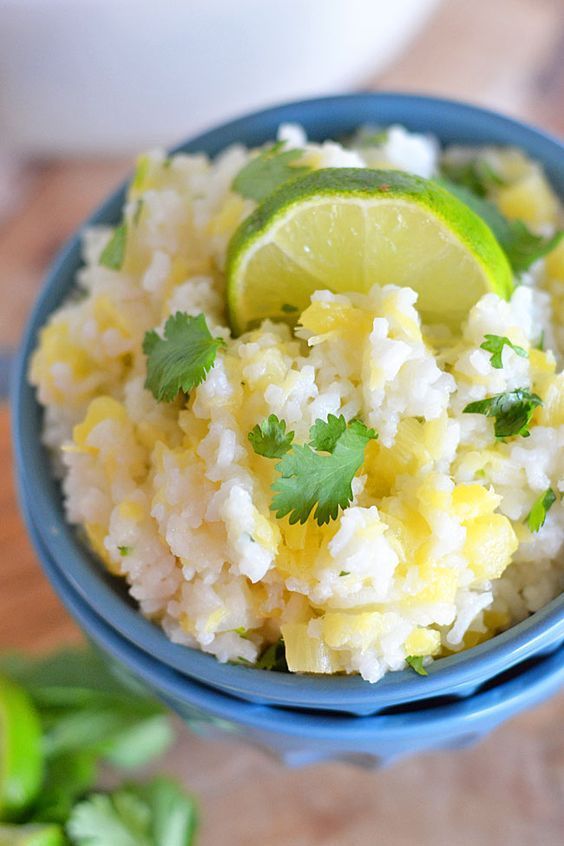 I make this with Dry Rub Jerk Chicken (get recipe here). The coolness of the rice is a great compliment to the heat of the chicken.
INGREDIENTS:
2 cups uncooked basmati rice
1 pineapple, peeled, cored, and cut into 1/2-inch cubes
1/2 cup fresh cilantro leaves, coarsely chopped
1 red bell pepper, seeded and cut into 1/4-inch dice
1 1/2 teaspoons extra-virgin olive oil
1/2 teaspoon salt
1/2 teaspoon black pepper
DIRECTIONS:
Bring a medium saucepan of water to a boil. Stir in the rice, and reduce to a simmer.
Cook until rice is tender but still firm,10 to 12 minutes. Drain; rinse with cool water. Transfer to a bowl, and stir in the pineapple, cilantro, bell pepper, and olive oil. Season with 1/2 teaspoon salt and 1/4 teaspoon
black pepper. Cover, and chill.
1 serving would be 1 yellow, 1/2 purple, 1/4 green