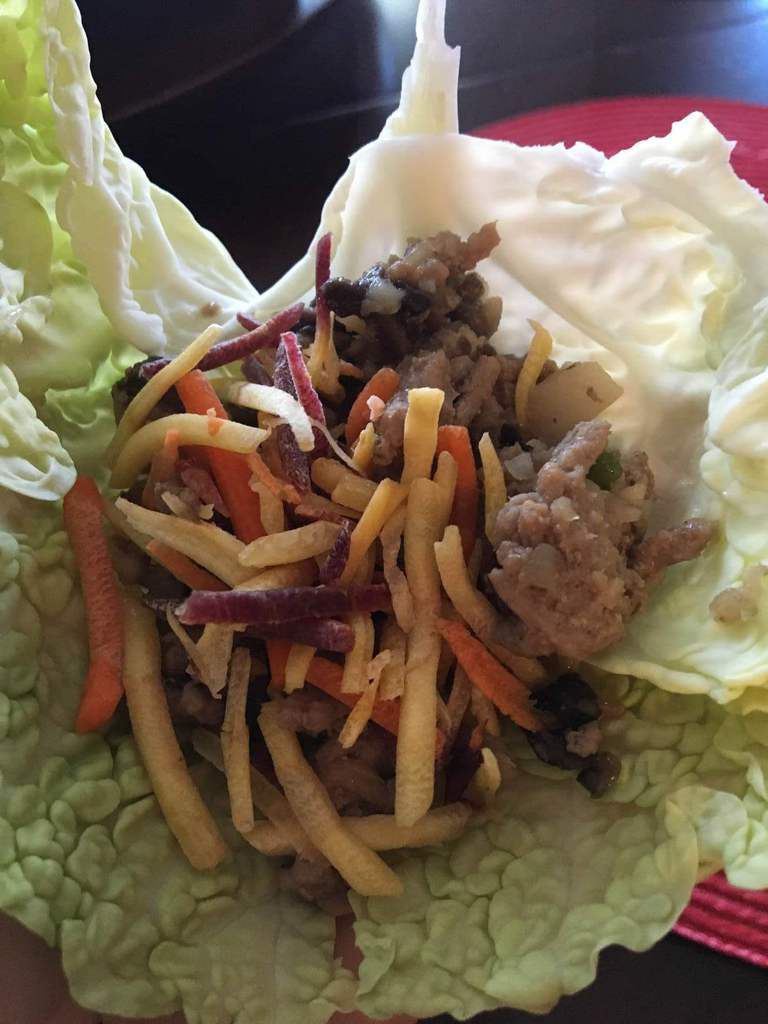 I based this recipe off one I found on the food network website but made a few changes. Definitely wasn't sure if the child would eat it. Instead of lettuce, I put his in a corn tortilla and he loved it. This is, until he decided to put hot sauce on the last one and then dumped half the bottle on it by accident and attempted to eat it. Oops. This was a definite hit and I'll be making again.
Ingredients:
16 oz ground turkey
1 tbsp coconut oil
6 oz chopped mushrooms (I used crimini)
3 green onions, chopped
2 cloves garlic, chopped
6 oz can of water chestnuts, chopped
1/4 cup braggs liquid aminos (or coconut liquid aminos)
1 tbsp brown sugar (if you're doing 21 Day Fix, leave this out, maybe add some stevia or honey)
1 tbsp rice wine vinegar
Directions:
For the filling: Brown the turkey in the oil in a large saute pan over medium-high heat until no longer pink. Add the mushrooms, scallions, garlic and water chestnuts, and cook until the mushrooms soften. In a small bowl, mix the liquid aminos, brown sugar and vinegar, pour over the turkey mixture and cook 1 minute. Remove from the heat.
Serve the turkey mixture with the lettuce leaves, drizzling sauce and vegetables for lettuce wrap assembly. I used some shredded carrots. You could also use bean sprouts and/or cilantro to top your wraps. We actually used cabbage leaves instead of lettuce because that's what I had.
Optional Drizzling Sauce:
I decided not to make this but here's the recipe.
Ingredients:
3 tbsp liquid aminos
2 tbsp rice wine vinegar
1 tbsp honey
1 tbsp dijon or spicy mustard
1 tbsp siracha sauce
1/2 tsp sesame oil
Directions:
For the drizzling sauce: In a small bowl, whisk together the soy sauce, vinegar, honey, mustard, Sriracha, sesame oil and 1/4 cup water.