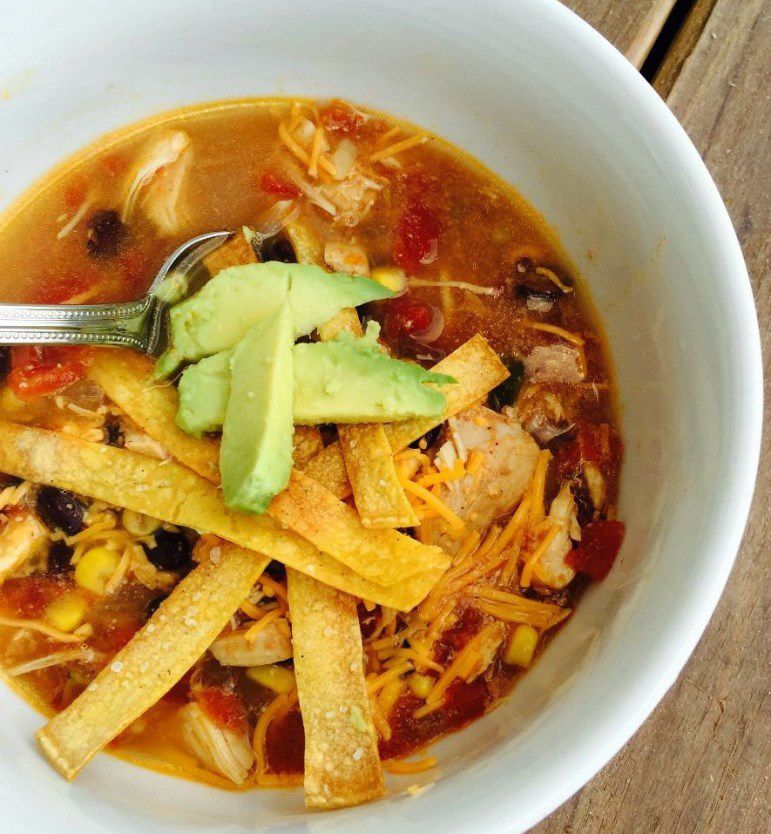 This was what was for dinner last night and it was yummy! Everyone loved it. We like it spicy and it had a good kick. You could use less jalapeno (and not the seeds if you wanted it less spicy).
Serves about 6-8 depending on how much you eat.
Here's the original recipe

Ingredients:
1 1/4 lb raw boneless skinless chicken breasts (about 3-4 Breasts)
10 oz. diced tomatoes with green chilies
14.5 oz. diced tomatoes (no salt added)
1 cup frozen corn thawed
1 cup black beans (no salt added), drained & rinsed
1 medium onion, diced
1 jalapeno, diced
2 cloves garlic, minced
4 cups of organic, low sodium chicken broth or stock
1 tsp. ground cumin
1 tsp. chili powder
1 tsp. Himalayan salt
1/4 tsp. black pepper

Tortilla Strips:
organic corn tortillas
olive or coconut oil cooking spray
Himalayan salt

Optional toppings – avocado, cheese, lime, Greek yogurt, cilantro…or all of the above.

Directions:
Toss all the ingredients for the soup into your crock pot. Stir, turn on low, and go about your day. Check back in 6-8 hours. Before serving, shred the chicken. I actually used canned chicken and only cooked for about 5 hours.
I made a few modifications based on what I had at home.
1) I used canned chicken instead of chicken breasts. I know that canned chicken isn't nearly as healthy as organic chicken breasts but I had them and didn't need thaw them. Sometimes you do what you gotta do!
2) I used canned corn because it was what I had. Drain it first and it worked just fine.
3) Instead of diced tomato with green chilis, I used ONE 28oz can of diced tomatoes and one can green chilis. Also, worked great.
4) Instead of chicken broth/stock, you can use boullion plus water. I did a combo of both (again, what I had handy).
If you want to make homemade tortilla strips, preheat your oven to 350 and cut the corn tortillas into strips. Spray with olive oil spray and sprinkle with Himalayan salt. Bake for about 10-15 minutes. Alternatively, you can crush up some regular tortilla chips. I actually did make these because I had some corn tortillas to use up and they were super easy. Cut them with a pizza cutter, spray and salt. Super yummy too!

For 21 Day Fix for one medium/large 1 bowl full: 1 RED, 1 GREEN, 1/2 YELLOW
Plus, Don't forget to count the toppings with your containers.
To be informed of the latest articles, subscribe: