I don't know about you but I LOVE bruschetta. It's relatively healthy in concept but often served on some nice crusty italian bread. I do eat it that way often but, since my 3 Day Refresh, I really haven't been craving bread. I was hoever, craving bruschetta. So, how do you get the same taste without all the carbs? I tried a little something new tonight and it was delish! I'm calling it
Zucchini Boat Bruschetta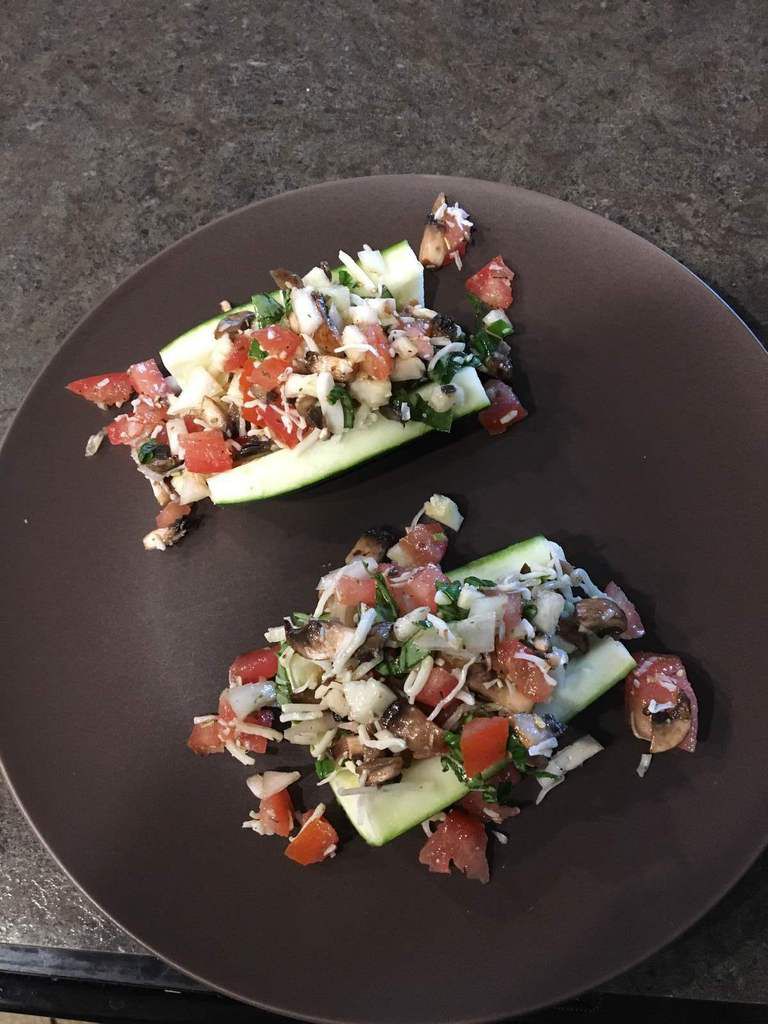 Here's how I made it.
Ingredients:
1/2 zucchini (cut lengthwise)
1 tomato (chopped)
1/4 onion (chopped)
4-5 crimini mushrooms (chopped)
4-5 basil leaves (chopped)
1/4 cup shredded mozzarella cheese
Italian Seasoning (to taste)
1 tbsp olive oil
Directions:
Cut your zucchini lengthwise so you have 1/2 a zucchini. Cut that in half again so that you have two same sized pieces. Hollow up the middle part of the zucchini to make "boats". Take the hollowed out portion and chop.
In a small bowl, combine chopped zucchini, tomato, mushroom, onions, basil, italian seasoning, cheese and olive oil. Stir so olive oil coats all veggies and ingredients are well mixed.
Spoon the veggie mixture into your zucchini boats.
You should have enough to make a heaping amount in your boats and still have some of the mixture left for another day.
The zucchini boats act as your "bread". Just pick them up and eat.
Super light and refreshing for summer, tasty and nutritious!
I honestly wasn't sure if this would be enough food but I was pretty full after eating this.