Woke up this morning SO stiff and sore. My back is annoyingly sore. I've read other reviews of this program and learned that it's normal when your body is detoxing. I hope it goes back to normal in a couple of days. I guess this is part of the reason why they want you to keep your workouts light. I drank about 10 oz of water and made my way downstairs.
Working from home today so I got side tracked before breakfast. Drank my Shakeology and ate my fruit at about 7:30. I went with Greenberry ShakeO and blueberries this morning because it seemed that the volume of blueberries was bigger and I got to eat quite a few. Might at well maximize my portions, right?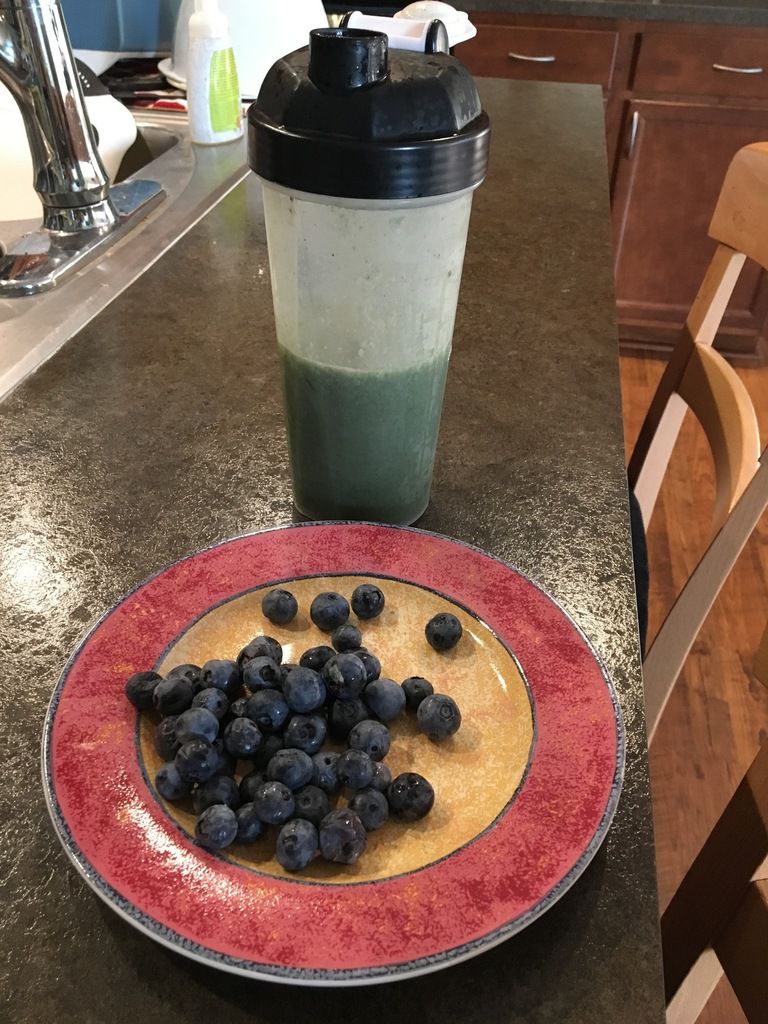 I was planning to do yoga today but as I turned on Beachbody on Demand, I saw a trainer tip at the top with Tony Horton talking about mysofacial release. I thought, well, I feel like I need a massage, this is a self-massage. Let's try it. O.M.G! That was awesome. My back feels 100x better. I highly recommend. I might do yoga later. We'll see how I'm feeling.
I had some green tea around 9:30 for a little pick me up.
Did my Fiber Sweep at about 10:45 when I started to get a little hungry. Tried a recipe I found that added lemon juice and cinnamon. Honestly, I didn't care for the cinnamon in there but at least now I know.
For lunch, I decided to combine my fruit portion with my shake. So I added 3/4 cup of raspberries to my Vanilla Fresh and a couple of mint leaves. So good! I know my lunch looks sad with just 5 little carrots and 2 tbsp of hummus but I was plenty full after that and the shake.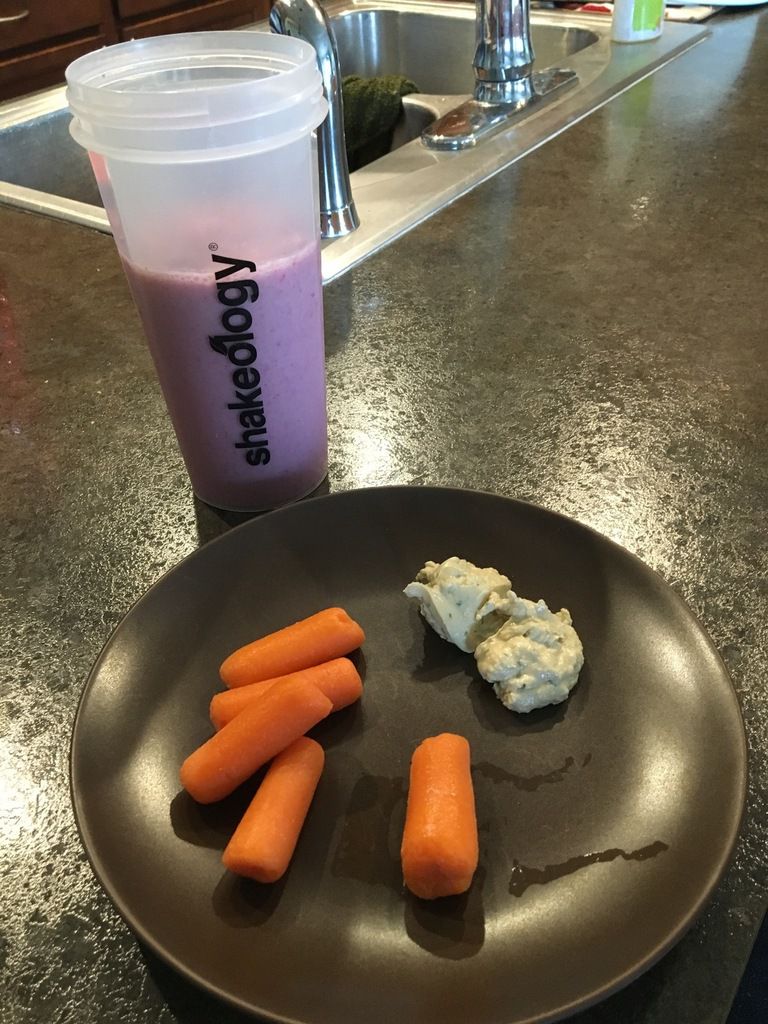 I had a busy afternoon, running some errands so I didn't get hungry at all until about 4:30 in the afternoon. That definitely teaches me that snacking is more about boredom to me than hunger. Good lesson!
Also, mid afternoon I noticed that some of the muscle soreness was starting to ease up. My energy level is good and the bloating is going away as well.
Did my afternoon snack at about 4:45. I opted for hummus again. Mostly because you get more than the almond butter. I would have done 2 tbsp of mashed up avocado but I can't figure out how to eat a piece of an avocado per day without the rest going brown and gross.
Waited to have dinner until the hubby got home. He started the 21 Day Ultimate Reset today and had asparagus on the menu so I had the baked asparagus with almond slivers recipe plus my Vanilla Refresh. Since last night's Refresh was so good, I decided to repeat. Well, I accidentally added lemon juice instead of lime juice. Still tasted good though.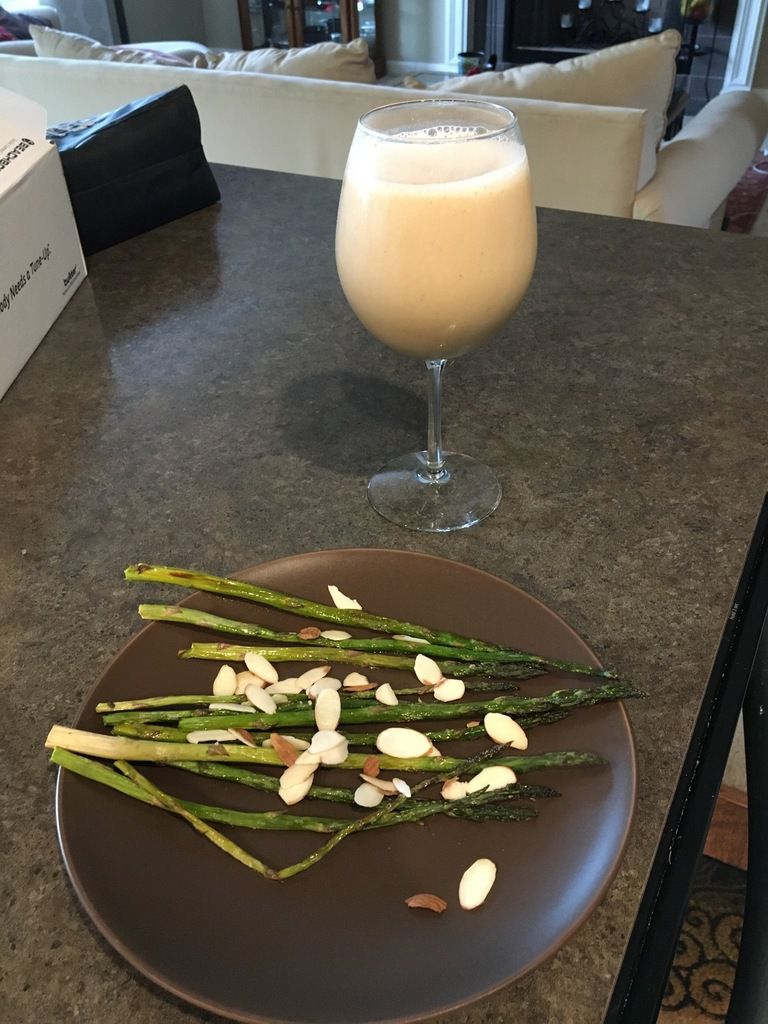 Tonight definitely felt like less food than previous nights and I'll probably be hungry later. So, my word of advice is to maximize your portions by doing things like veggie stir fry or spinach salad if you're looking for the biggest volume of food.
While my muscle pains were better mid afternoon, they are back as I type this tonight. It aches most in my back and hips. Actually hurts quite a bit and is making it uncomfortable to sleep as I'm up at 1:30am writing this.
But, I did it. Refresh done! I know I've lost weight and the bloat is going away.
Stayed tuned in the next couple of days for my results and complete review of the program.
To be informed of the latest articles, subscribe: