I've seen people doing this cleanse called 3 Day Refresh by Beachbody for a while and I've been curious to try it but never pulled the trigger. Then, summer came, beer drinking commenced, lots of eating out took place and vacation happened. So, when my husband got on a kick about doing the Ultimate Reset by Beachbody (a 21 Day program) I thought about doing it with him BUT he was on a mission to do it soon and I had committed to a 60 day workout program with some of my team members. My compromise was doing a 3 Day Refresh before I started the new program. Well, Day 1 is today!
My prep included reading over the materials, the food plans and the rules.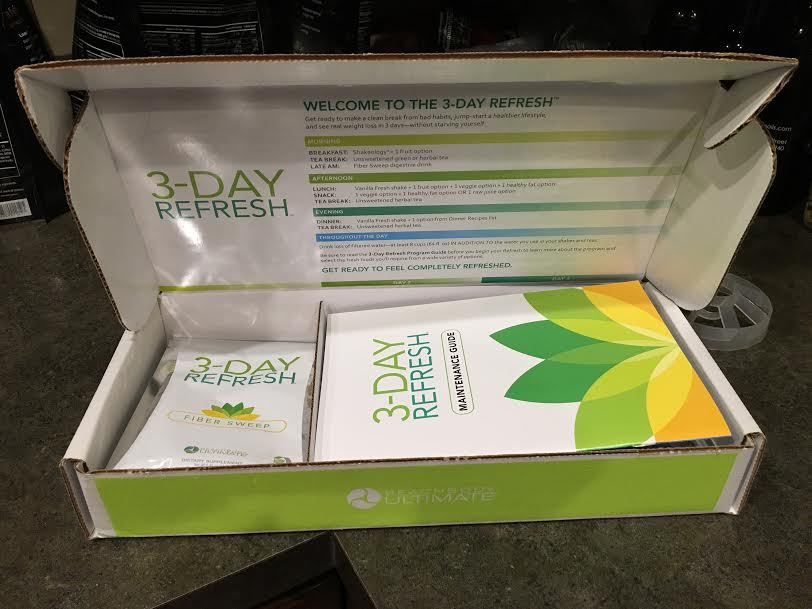 We grocery shopped for lots of fruits, veggies and healthy fats (stuff like hummus, peanut butter and avocado). Went to dinner. Totally not going to lie, I went out and had beer and pizza knowing I'd be having no dairy, bread or alcohol for the next three days. Then I took measurement and weighed myself. Then I did it again this morning because I was super bloated last night.
Current stats:
Weight: 123 (yep I've put on a few pounds over the last couple of weeks)
Waist Measurement: 27" (28.5" if you counted when I measured after beer and pizza - WOW!)
This morning, as soon as I woke up, I drank about 8 oz of water. Then I had my breakfast of Strawberry Shakeology and 1/3 cup of raspberries. I forgot to take a picture. Sorry about that! But, this is a picture of me all loaded up with my food to take to work.
Intense workouts can actually decrease the effectiveness of the program so it's recommended not to workout (or to do something light). I wanted to maintain my healthy habit of getting up early to do my workout and move my body by doing something. Especially since I still have the fuel of yesterdays food in me. I opted for Upper Fix but I modified most of the moves and did all light weights. Barely broke a sweat.
Got to the office and had a green tea for just a little bit of caffeine. Then drank about 16 oz of water. I think I've been to the bathroom 5 times this morning already.
At 10am I did my first Fiber Sweep. I've read that you should use very cold water, don't use ice because it gets clumpy and drink it fast. So, I was a little scared.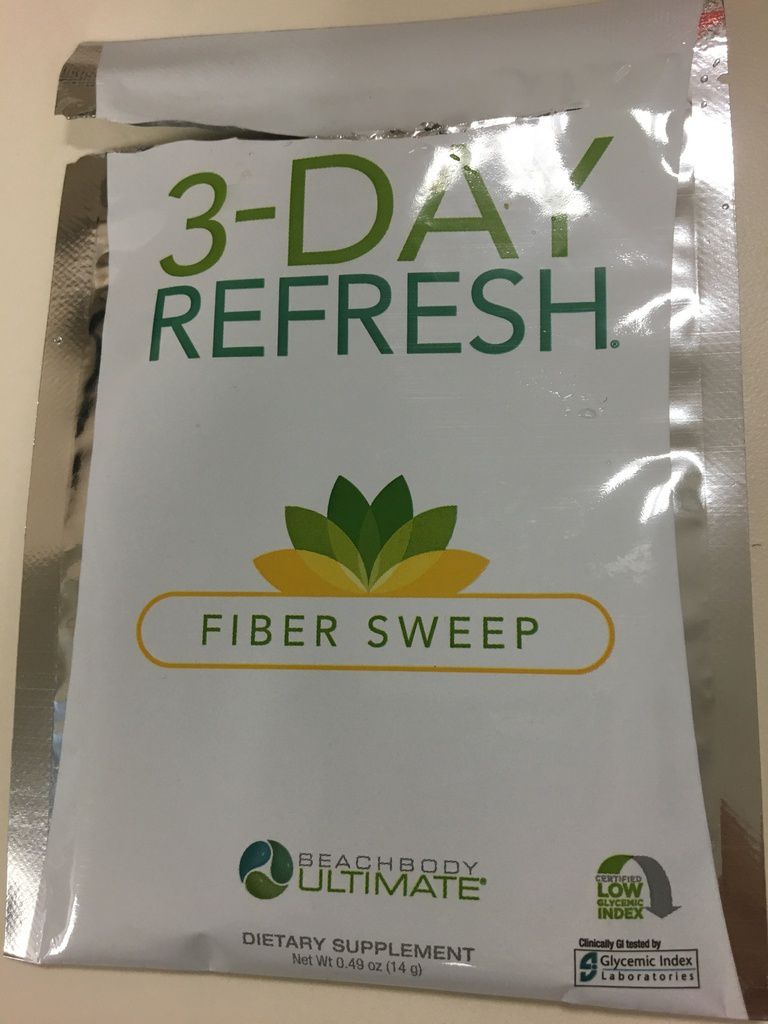 It was not nearly as bad as people make it out to be.The flavor wasn't bad, it's a lemon citrus kind of taste. I did chug it but it went down pretty smooth and quick as I only mixed it with 10 oz of water. It's a little grainy towards the end but that doesn't really bother me.
I didn't get to eat lunch until 1:20pm today due to a meeting that ran late. I wasn't too hungry after the fiber sweep so that was ok. Lunch consisted of a vanilla fresh shake, 5 baby carrots, 2 tbsp spicy cilantro hummus and a peach. The Vanilla Refresh tasted pretty good. Kind of like Vanilla Shakeology but not quite. It seems a little thicker. Actually chew some real food was a nice treat!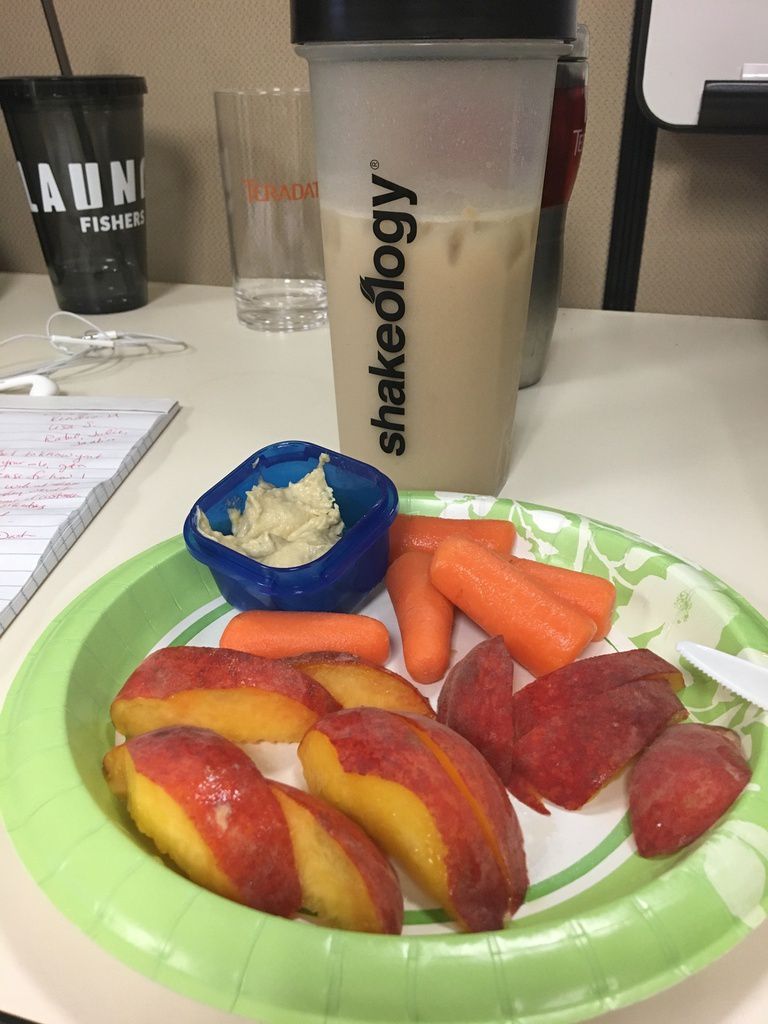 I was freezing after that shake (my office is cold) so I had some warm herbal tea (not caffeinated).
Afternoon snack at 4:30 was celery and almond butter (2 stalks of celery and 1.5 tsp almond butter) and more water. I'm up to about 35 oz of water so far today - not counting the water in my shakes and tea. I honestly wasn't hungry but I was starting to feel a little sleepy so the snack, and the water, helped. Sorry, I did not take a picture of my celery.
I have peed at least 10 times today. I had trouble making my 45 minute commute home because I had to pee. I know I definitely don't drink enough water and this is a lot of the reason why. I know, shame on me! When I got home, I poured about 32 oz of water and told myself I was not allowed to go to bed until it was all gone.
Dinner wasn't until about 7:45 because, honestly, I wasn't that hungry. Finally made myself eat before it got too late. Cooked up some steamed veggies with coconut oil and pink himalayan salt (the recipe says sea salt but I like himalayan salt so I figured that was ok). Super yummy and only took about 5 minutes. I should seriously make that again as a side. Another Vanilla Refresh shake. I intended to add some cinnamon and/or nutmeg to it to spice up the flavor but I forgot.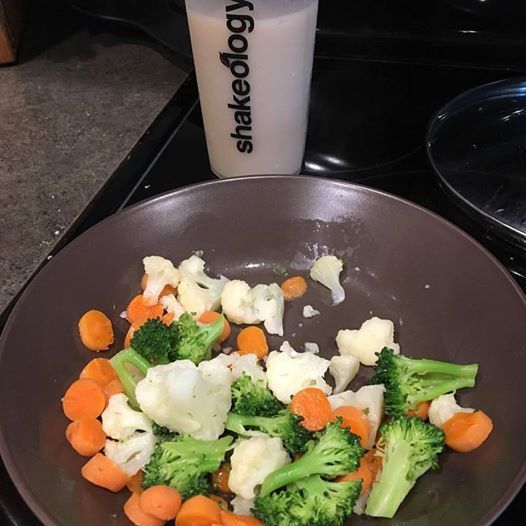 Now, to drink the rest of my water before I go to bed. :)
I am not the least big hungry. I don't have a headache and I feel great.
Bring on Day 2!