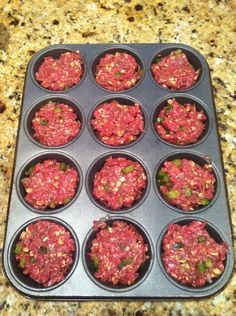 Looking for a lighter, healthier version of your classic meatloaf? Here's an option that utilizes veggies to reduce fat and calories. They were quite tasty. You honestly couldn't taste the veggies. The kids even ate them and went back for seconds with no questions on what was in them. That's a hit in my book!
Ingredients:
1 cup zucchini, grated
1 lb lean ground beef (or you could use ground turkey)
1 egg, slightly beaten
¼ cup onion, very finely chopped
1/2 cup spinach, finely chopped
1-2 garlic cloves, minced
¼ cup bread crumbs, plain or italian (substitute Almond meal if you're following Paleo or Whole 30 diets)
½ tsp paprika
¼ tsp dried oregano leaves
½ tsp salt
⅛ tsp ground black pepper
1/4 cup ketchup (optional)
INSTRUCTIONS:
Put grated zucchini, ground beef, egg, spinach, onion, garlic, bread crumbs and onion into a large bowl. Season with paprika, oregano, salt and black pepper. Mix well until combined.
Put into lightly greased muffin pan. Brush tops with ketchup.You could leave the ketchup off if you don't like meatloaf with ketchup. I actually but on a little for baking and then with 10 minutes left, I added some more.
Bake in 350 F (175 C) preheated oven for about 35-40 minutes or until cooked through. Remove from the oven.
For 21 Day Fix 2 meatloaf muffins are: 1 red, 1 green, 1/2 yellow, 1/4 purple.
(If you omit ketchup, no purple)
Want more nutrition or fitness help?
To be informed of the latest articles, subscribe: