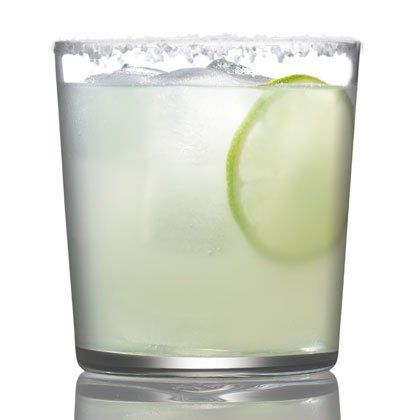 If you're like me, you definitely like to indulge in the occasional adult beverage. It's ok, all in moderation right?
In honor of Cinco De Mayo, I'm sharing some low calorie margarita options.
Blood Orange Margarita
If lime makes you pucker, try this sweeter drink.
Ingredients:
1 1/2 ounces Tequila Avión
3/4 ounce Cointreau Orange Liqueur
1 ounce blood orange juice
1/2 part fresh sour mix
1 orange twist, for garnish
Directions:
In a cocktail shaker, add first four ingredients with ice. Shake and strain (best served over fresh ice). Garnish with orange twist.
Nutrition score per serving: 214 calories, 19g carbs, 8g sugars
Elevated Margarita
Keep it simple with this not-too-sweet three-ingredient cocktail.

Ingredients:
2 ounces Avión Silver or Reposado
1 part fresh lime juice
1/2 ounce agave nectar
1 lime wheel, for garnish

Directions:
Combine first three ingredients in shaker with ice and shake vigorously. Fine-strain over fresh ice. Garnish with lime wheel.
Nutrition score per serving: 170 calories, 11g carbs, 8g sugars
Slim and Sparkling LemonLime Margarita
Add zero-calorie flavored sparkling water for a fun bubbly bevvy.

Ingredients:
3 ounces Sparkling ICE Lemon Lime
1 1/2 ounces tequila
Fresh squeezed orange juice
Fresh squeezed lime juice
1 lime slice, for garnish
Directions:
Shake first four ingredients and pour into a chilled rocks glass rimmed with salt. Garnish with lime slice.

Nutrition score per serving: 100 calories, 3g carbs, 2g sugars
Skinny Marg'
Don't waste your calories on bad tequila and sugary mixers. This elegant low-calorie, low-carb version is perfect any time you're jonesing for a margarita.

Ingredients
1 ounce añejo tequila
1 ounce Cointreau
1/2 ounce lime juice
1 pinch pink Himalayan salt
Polar® Ginger Lemonade Seltzer

Directions:
Pour first four ingredients into a cocktail shaker filled with ice. Shake vigorously until condensation forms. Pour into an elegant glass and top with seltzer.

Nutrition score per serving: 185 calories, 7g carbs, 4g sugars
Caliente Viejo
The margarita and the old fashioned meet to make this spicy Mexican-inspired beverage.

Ingredients
2 ounces Avión Añejo
3/4 ounce hot pepper-infused agave nectar
3 dashes orange bitters
1 orange twist, for garnish

Directions:
Add Avión Añejo and agave to a mixing glass filled with ice. Top with orange bitters and gently stir. (You don't want to break up the spirit or add any chipped ice to it.) Strain into a glass filled with ice. Finish off with orange twist.

Nutrition score per serving: 185 calories, 12g carbs, 10g sugars
Classic Midori Margarita
It may look like a traditional margarita, but Midori® gives this low-calorie cocktail a light melon flavor.

Ingredients
1 ounce Midori® Melon Liqueur
1 1/2 ounces Cabo Wabo ™ Blanco Tequila
1 ounce freshly squeezed organic lime juice
1 lime wheel, for garnish

Directions:
Shake first three ingredients with ice and strain into an ice-filled cocktail glass. Garnish with lime wheel.

Nutrition score per serving: 165 calories, 11g carbs, 0g sugars
Strawberry-Peach Frozen Margaritas
This gorgeous creation tastes like summer but is perfect to enjoy any time of year.

Ingredients:
10 medium frozen strawberries
1 ripe peach, peeled and chopped
2 ounces tequila
1/2 cup crushed ice
6 ounces sparkling water

Directions:
Place all ingredients in a blender and puree until smooth. Serves 2.

Nutrition score per serving (half the recipe): 121 calories
Van Gogh 'rita
Skip the tequila and try vodka in this untraditional recipe.

Ingredients
2 ounces Van Gogh BLUE Triple Wheat Vodka
1/2 ounce triple sec
1 ounce sour mix
2 ounces soda
2 lime wedges

Directions:
Pour vodka and triple sec in a glass over ice. Top with sour mix and soda. Garnish with lime wedges.

Nutrition score per serving: 216 calories, 11g carbs, 6g sugars

Ginger-Mint Margarita
Ginger and mint give the classic margarita a southern swirl with 63 percent fewer calories!

Ingredients:
1 1/2 ounces ginger simple syrup*
1 1/2 ounces tequila
6 large mint leaves
Juice of 1 lime (drop in rind)
Zest of 1 orange (approximately 1 1/2 teaspoons)
2 lime wedges, for garnish

Directions:
In a mixing glass, muddle simple syrup, tequila, and mint leaves. Pour into a glass half-filled with ice and add lime juice, rind, and orange zest. Shake until the tin is frosted, strain into a highball glass filled with fresh ice, and garnish with lime wedge. Serves 2.

To make simple syrup: In a small pot, add 1 tablespoon plus 2 teaspoons Truvía® or 1/4 cup sugar, 4 ounces water, and 10 slices peeled fresh ginger. Bring to a boil, then reduce and simmer for 15 minutes. Strain out ginger and allow to cool. Keep refrigerated up to 1 day.

Nutrition score per serving (half the recipe): 60 calories, 13g carbs (using sugar instead of Truvia adds 100 calories and 26g sugars per serving)
KAPPA Rico
Swap out Mexico's tequila with Chilean pisco for a low-calorie update on the marg.

Ingredients
1 1/2 ounces KAPPA Pisco
1 ounce Grand Marnier Cordon Rouge
3/4 ounce fresh lemon juice or fresh lime juice
1/4 ounce simple syrup
1 lime wheel, for garnish

Directions:

Combine first four ingredients in a mixing glass with ice. Shake vigorously and strain over fresh ice in a rocks glass. Garnish with lime wheel.

Nutrition score per serving: 175 calories, 11g carbs, 3g sugars