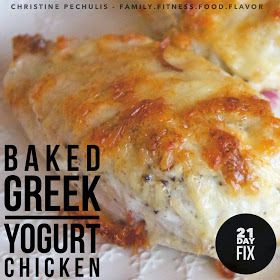 I know this might sound weird but it's actually pretty tasty. On of my challenge group participants posted it and said it was worth making. I altered it slightly to make it a big more spicy because my family likes some spice.
Ingredients:
4 small chicken breasts (skinless and boneless)
1 cup plain Greek yogurt
1/2 cup Parmesan cheese
1 tsp. dried parsley
1 tsp. onion powder
1 tsp. garlic powder
1/2 tsp. red pepper flakes

Directions
Preheat oven to 350 degrees.

In a bowl, combine all ingredients except for the chicken breasts.

Place the chicken in a baking dish, coated with nonstick cooking spray. Using a kitchen brush (a spoon will work too), brush the Greek yogurt mixture over the chicken.

Bake for 25-30 minutes or until cooked through (depending on the thickness of your chicken breasts).

21 Day Fix: each of 4 servings counts as: 1-1/4 red, and 1/2 a blue.
If you try it, let me know what you think and if you like it!
To be informed of the latest articles, subscribe: