Well, I am now halfway through. I'm really enjoying this program. You can't beat 22 minute workouts. Seriously, no excuse that you don't have enough time to fit this into your day. And, I'm seeing some results. They may not be in weight loss but I can tell I'm more toned and clothes that didn't fit a couple of months ago fit now. That's an important reminder, that you don't always see the results on the scale first. It's important to take measurements and not just weight when you look at how you've done. I'm feeling good, my stomach is flatter, my legs are firmer and my clothes fit better. YAY!
So here's what week 4 looked like:
Monday - Resistance 3
So, I've graduated to level three. That's kind of scary. However, it was nice to put a new routine in the mix after three weeks. This workout is no joke BUT it's short. The actual workout is less than twenty minutes there's a good 3 1/2 minute cool down. Even though it's short, you'll work hard. There's 5 moves in each circuit and you do the circuit three times. First move is Pump jumper. Think jumping jacks in push up position (kind of). Not gonna lie, I went about half of the speed of the video so I didn't do as many of these but I did include the jump. No, I may not jump like a frog but I did them. Second move is the Split Lunge Thrust. Also not gonna lie, I modified this and took out the jump. I did lunges with overhead presses in between. Third move is Arm Balance Row. This was my favorite move. Go from a plank to a side plank with arm raise (including a dumbbell). First move was Mountain Squats. These might seem easy as you're going from standing to laying and back up to standing. It's like of like a reverse burpee. If you think they're easy, try doing 20 in a row! The final move is Scissor Clappers. Think scissor crunches while trying to clap your hand under your leg each time. I definitely have some work to do to get up to speed on this one but getting stronger every day!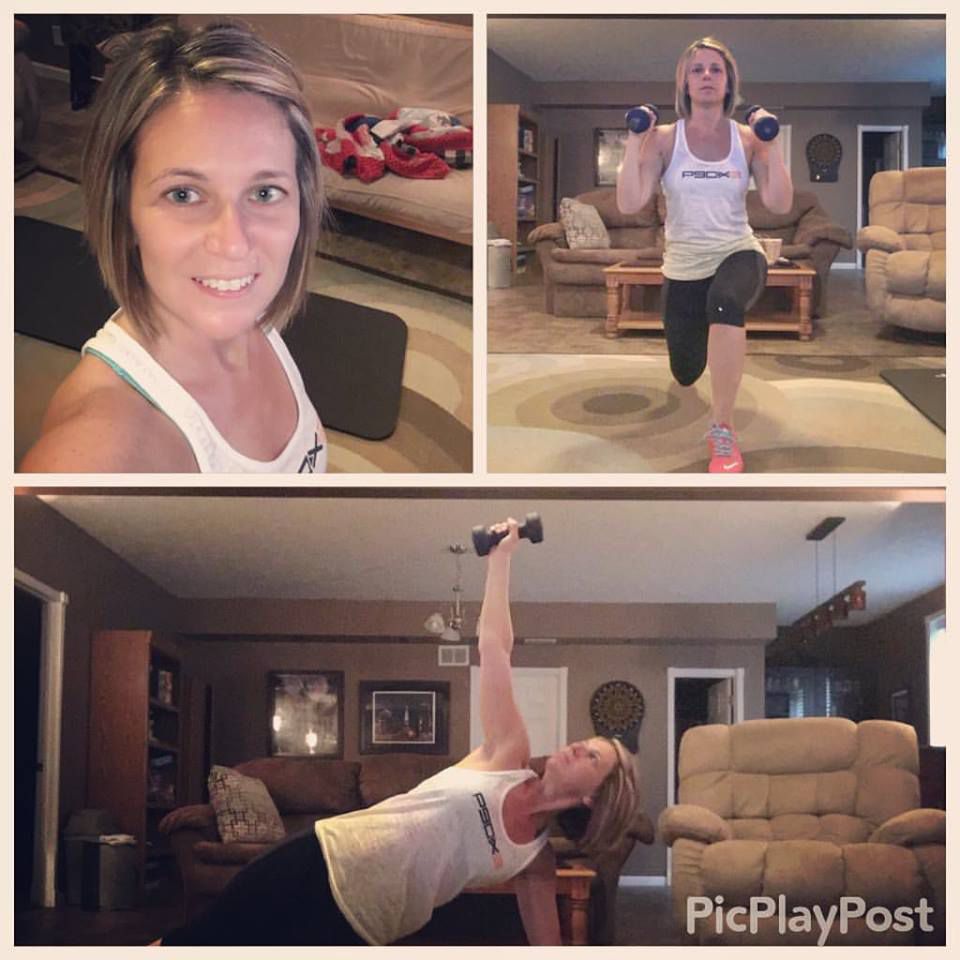 Bonus workout Monday
The hubby went for a run and then wanted to do yoga, which I keep encouraging him to do. So, when he asked me to do it with him I had to say yes. We pulled out Yoga Fix from 21 Day Fix and it felt great. Been a while since did yoga and I definitely needed it. And, even though I haven't been doing yoga, the workouts I've been doing have increased my flexibility and stamina. The workout was easier and I was more flexible. Yay!
Tuesday - Cardio 2 & Core 1
Ok maybe gorilla crawls are getting easier....Maybe. I did not say easy, just easier. I was able to get lower today which made them better. I was able to keep up with the count. I pushed a bit harder today and even added a few jumping water bugs. I was one sweaty mess after today's workout!
Wednesday - Resistance 1
Back to the beginning...it feels like I haven't done this one in a while so I kinda forgot it. Quick reminder...oh yeah...pushups galore! But, I did them with ease (well, almost but I did them all) today and felt better so I know I'm getting stronger. I had a workout buddy today. My stepson decided to try it with me and he made it all the way through. He's 12. So, if he can do it, so can you!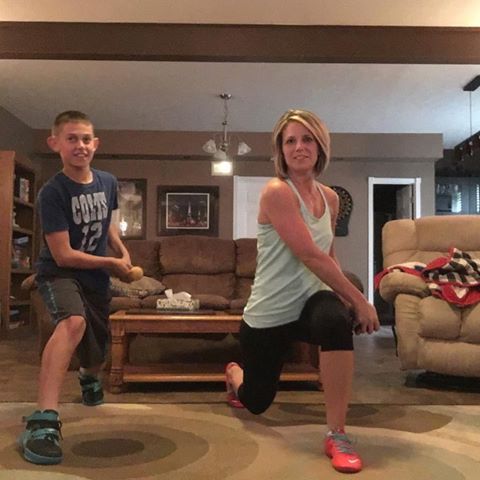 Thursday - Cardio 3 & Core 1
Well, everyone told me Cardio 3 was a killer and they did not lie. Actually, I thought I was doing pretty well until the spin burpees. i couldn't quite keep up with the speed on every move but I made it through and managed a smile (kind of) at the end.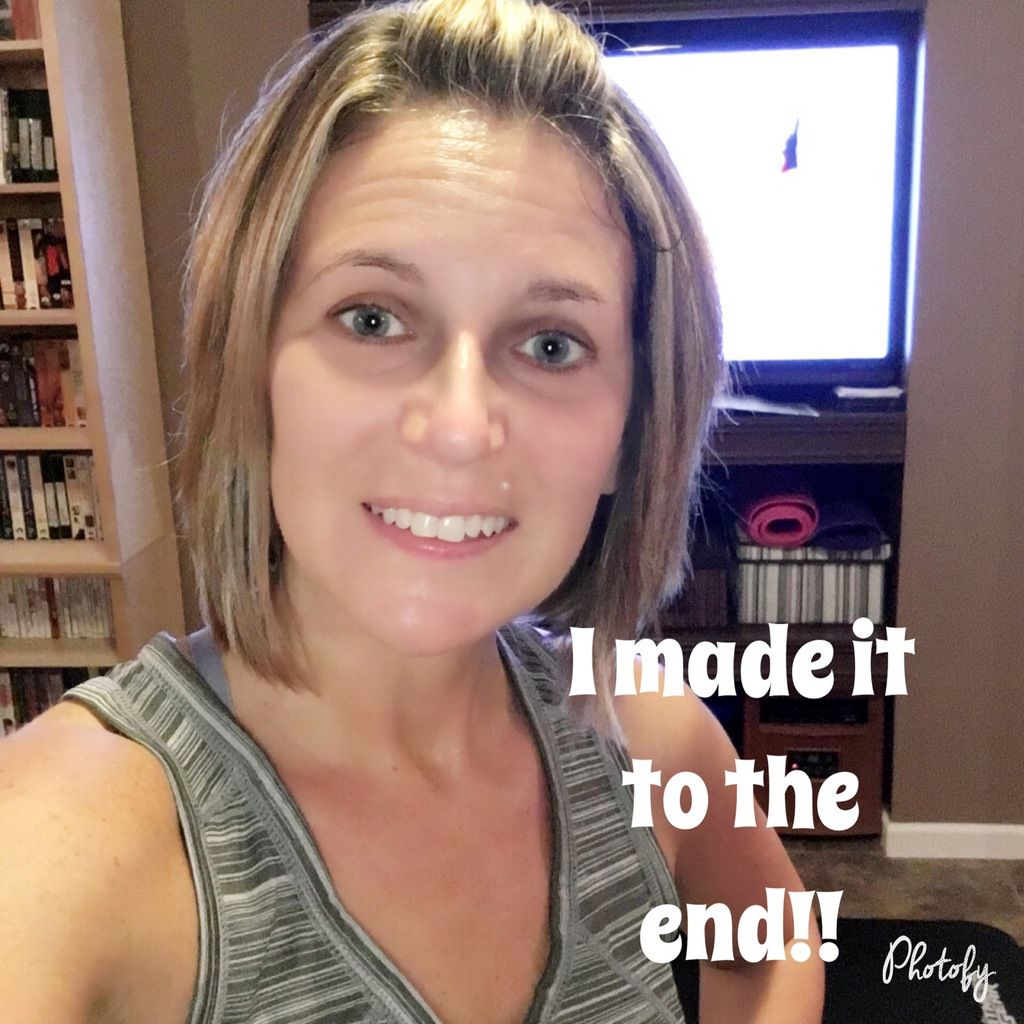 Here's what you get in cardio 3. No warm up. You go right into spider crawls. skip flys (I really liked these), mountain climber crosses (think crossing your knees to the opposite elbow), fast feet up down (speed drill with a burpee/plank), surrenders (he calls them something else but that's what they are), kicker (think reverse mountain climbers), and spin burpees (just like a regular burpee but you spin 180 degrees between them). I do recommend a mat or you might end up with rug burn. Overall, I thought it was pretty good, except those spin burpees.
Core 1 - I'm enjoying this one as next week I will be starting Core 2. I'm scared because I know it's going to be harder and I hate abs exercises!
Friday - Resistance 2
I actually did this on on Thursday to prepare for being off the grid at a retreat all weekend. Killer after doing Cardio 3 already but I do like this workout!
Saturday - Cardio 1
And I did this one on Friday to stay ahead. Back to the basics and it'll still whip your butt. However, big accomplishment today. I kept up the pace on all the burpees!!!
Now that I'm halfway through the program, I know I can feel the progress in my stamina and my clothes are fitting better. I took some photos to compare my before and now. I have to say I'm surprised at the difference. You can see that my shorts aren't as tight, my stomach has more definition. I'm super encouraged. And this is only halfway through. Don't think you can get fit in 22 minutes a day, think again!
To be informed of the latest articles, subscribe: