For anyone wondering what this workout is like and deciding whether you'd like to try it, I'm going to review my experience and my progress here. First, let's say I love Tony Horton. Yes, he can be a little corny sometimes but he is passionate about what he does, always strives to be better and create better, shorter but more effective workouts. He's gone from P90 to P90X3 to now, 22 Min Hard Corps.
This program was created with Vets and includes vets working out along with you in the videos. It's fast paced, no fluff or long breaks. Just get in, get some and get done!
Day 1 - Cardio 1 & Core 1
Yep, I was a sweaty mess! I'd actually done this one before in a free preview event so I knew what to expect. I survived the first time, even though it was my first workout in about 6 months. However, that doesn't mean it's easy by any means. I think it was just as challenging the second time, after I'd been working out for a couple of months consistently. Maybe I didn't give it my all the first time? Not sure. Anyway, this is heart pumping cardio for about 20 minutes with a combination of T Jacks (Tony's variation on jumping jacks), bear crawls, burpees, lunges, squats and more. Don't be alarmed if you don't think you can do that for 20 minutes. There are modifiers. I know I did not do as many burpees as I was supposed to do but I DID do burpess for the entire allotted time and I'll get stronger and faster as the workouts progress. So, what is tough? Yes. Was it too tough? No. Was is a great cardio workout? Yes. Did I feel like a rock star army boot camp chick after? Maybe. I did feel accomplished and ready to hit the showers.
So the Cardio is the 22 min video and then there's a suggested 10 minute core workout you're supposed to do after. I know, I know we said these workouts were only 22 minutes. You can skip Core if you really only have 22 minutes BUT when you've done the Cardio, what's another 10 minutes? Gives you a chance to cool down and feel like an even bigger rock star for doing extra. This is MY kind of core workout. I hate ab workouts. My abs are weak and wimpy but my stomach is the last place I gain weight and the first I lose it so I've never worried about it too much. BUT, I am interested in strengthening my core. It's very important to protect your back and impacts balance which gets more critical the older you get. So, this workout is 10 minutes. Each move has 11 reps and you only have to do each move once. I actually really enjoyed it. Go figure!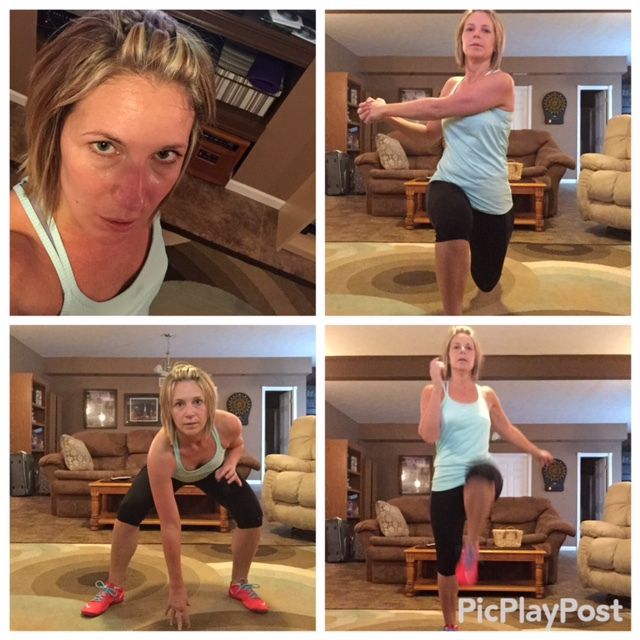 Day 2 - Resistance 1
This is the strength training part. Strength training is super important, along with cardio, for weight loss. You have to build muscle and bone strength to get that toned look you want. I know it's a common belief that you have to do a ton of cardio to lose weight but studies show that those individuals who combine cardio and strength training get the best results. This is three circuits of strength moves like chop lunges, squat thrusts, pull ups, push ups, etc. I'll just say there were a LOT of pushups. I suck at push ups. My arms are wimpy BUT I managed to do the first round of 25 pushups without modifying. I did have to modify a few in later circuits but it's nice of Tony to put that first round of 25 in as the first exercise before you're tired from everything else.
About halfway through, I had a minor sweat going on and I was thinking, this workout is pretty easy. Then circuit 3 came and I realized I was tired. Those weights that felt a bit light earlier in the workout felt like lead balloons. Then Tony, as he likes to do, threw in a bonus round at the end of sprint burpee push ups. Two minutes of that and I was done! So, there's a short stint of cardio in this strength workout. My shoulders will be sore tomorrow from all the push ups!!
Day 3 - Cardio 1 & Core 1
Had a hard time getting motivated today. Kind of sluggish, headachy today and had some appointments, didn't want to be a sweaty mess requiring me to wash my hair. I mean, I just washed it yesterday! So, I decided to postpone by workout until evening. Still felt sluggish and didn't want to do it but kept telling myself it was only 22 minutes. So, I pushed play and got it done. Feel good for not skipping and had feels a bit less sluggish. Go figure.
Can't say it was easier than day one but I'm sure I'll be stronger in week 2.
Day 4 - Resistance 1
It was a bit of a rough start for me today. They say workout before your brain knows what your body is doing and I did that. Got out of bed, headed straight to the basement for the workout. Whew, those first 25 push ups were rough. Maybe I should have done the cold start workout. Anyway, I warmed up and go it done. 22 minutes!
Day 5 - Cardio 2 & Core 1
Moved up to Cardio 2 today. I'm a bit surprised that happens in week one but it was good to switch things up. Cardio 2 includes things like running in place (with high knees), gorilla crawls, frog burpees, straight leg sprint (basically running in place with straight legs), mountain climbers, water bugs (basically a moving plank) and Jimmy Jumps (jumping like you're shooting a basketball). It was three rounds of these moves in varying amounts. Props to Tony for not including a bonus round in this one. I was dead after the three rounds. Can't say I did great on form in gorilla crawls or water bugs but I kept moving. Jimmy jumps were tough for me, have I mentioned I don't do well with jumping? However, I did manage to get my feet off the ground. Might have been a bit slower than intended. While the frog burpees were hard, somehow I found it easier to keep up with the pace than regular burpees. I guess it's the standing up part that slows me down!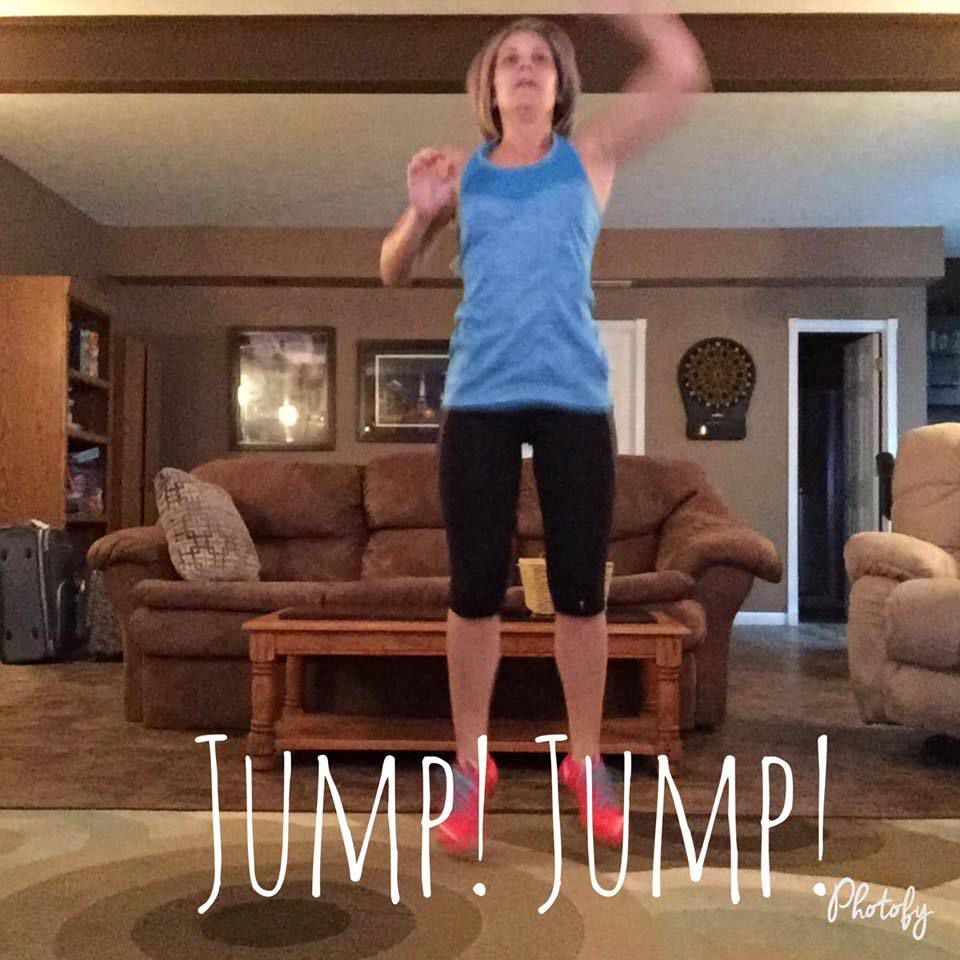 Core 1 for the third time this week. Still like the core movements in this one. It includes some pilates moves that I've always liked such as rolling like a ball into a boat position.
Day 6 - Resistance 1
Same as day 4. Pushups will be the death of me. But I did them all (almost).
Day 7 - Rest Day
I needed today! Everyone needs a day of rest and recovery so their muscles can recuperate from the hard work they did all week. I spent my day with family and I'm ready to tackle week 2 tomorrow.
Overall assessment of week 1:
This workout program is challenging but not so difficult that it should be scary. It's only 22 minutes so almost as soon as you get tired and think you can't go on, it's over. If you want a good workout that will make you sweat and get your blood pumping that you can fit into your busy day, this is a great one.
Stay tuned for my thoughts on week 2!