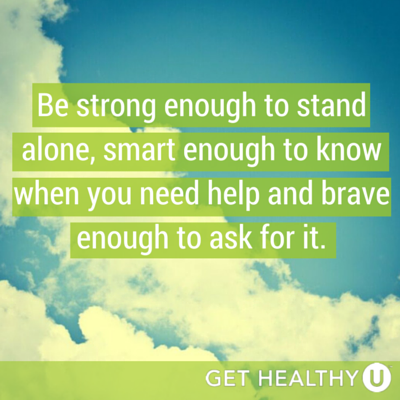 Sometimes asking for help is the hardest thing. I know that I tend to think I can handle everything on my own and can view it as a sign of weakness if I can't. I've learned (even though I still struggle with it every day) that we are designed to live in community with each other and that means helping each other out. Meaning, we shouldn't be afraid or ashamed to ask for help. I first go to God for help, and then I look at family and friends who can support, encourage and provide assistance to me when I need it.

Do you have struggles you could use encouragement with? Who can you lean on? Who can help you out?
Not that this is the only thing I can help with. Friends, I'm always here if you need ANYTHING. Don't hesitate to reach out if you need a hand or a prayer. But, If any of your struggles include sticking with a healthy eating or fitness program, let me know. I have ways to help - many of them are FREE. So, just ask!

My goal with my role as a health & fitness coach to not to make a ton of money or cram my products down your throat. My goal is to help others get healthy, maintain consistent good health and accomplish their goals.
Let me know how I can help you!
To be informed of the latest articles, subscribe: