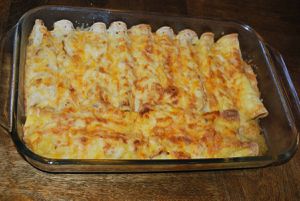 Love mexican but not all the calories? Here's a lightened up version of chicken enchiladas you can make at home. I'm mixing red and green enchilada sauce because I found two recipes I liked and combined them just because I feel like it. If you want to do one or the other, just eliminate the diced tomato or the green chili enchilada sauce. The husband loved this and had to stop himself from eating the entire pan. The child thought it was ok. The bottom of the enchiladas got a bit soggy which he didn't care for.
Ingredients:
3 chicken breasts
1 can diced tomato (no salt added) - do not drain
1 small onion
1 can green chili enchilada sauce
1/2 cup fat free greek yogurt
2 cups of cheese (your choice - mexican, cheddar, colby jack, whatever you like)
1/8 tsp cumin
dash of salt
Yellow corn tortillas
Cilantro
Salsa/Guacamole for topping (optional)
Directions:
First cook your chicken. You can either put it in the crockpot with the green enchilada sauce and cook all day or you can boil it if you need it faster. I boiled mine because I didn't plan ahead enough. Hand shred chicken.
In another pan, over medium heat, cook your onion in olive oil until translucent. Once translucent, add diced tomatoes and cook until tomatoes start to fall apart (probably 10-15 minutes). set aside.
Grease your 9x13 casserole dish and coat with layer of green chili enchilada sauce.
Warm tortillas in microwave for a few seconds to soften them.
Fill each tortilla with chicken, a spoonful of green chili enchilada sauce and cheese (about 1 tbsp of cheese per tortilla), roll it up and place seam down in the casserole dish. Your tortillas might break, mine did. That's ok. They won't be super pretty but they'll still taste the same.
Return to your sauce and add cilantro, greek yogurt and green chili enchilada sauce. If you like it spicy you can use spicy green chili sauce or you could add some jalepenos. Let simmer for just a few minutes and then put sauce in blender with salt and cumin. Blend untll smooth and then pour over your rolled tortillas.
Top with leftover cheese.
Bake at 375 for 20-30 minutes. Cheese should be completely melted.
Top with salsa and/or guacamole if you wish and serve.
1 green, 1 red, 1 yellow and 1 blue for two enchiladas (without Guacamole).