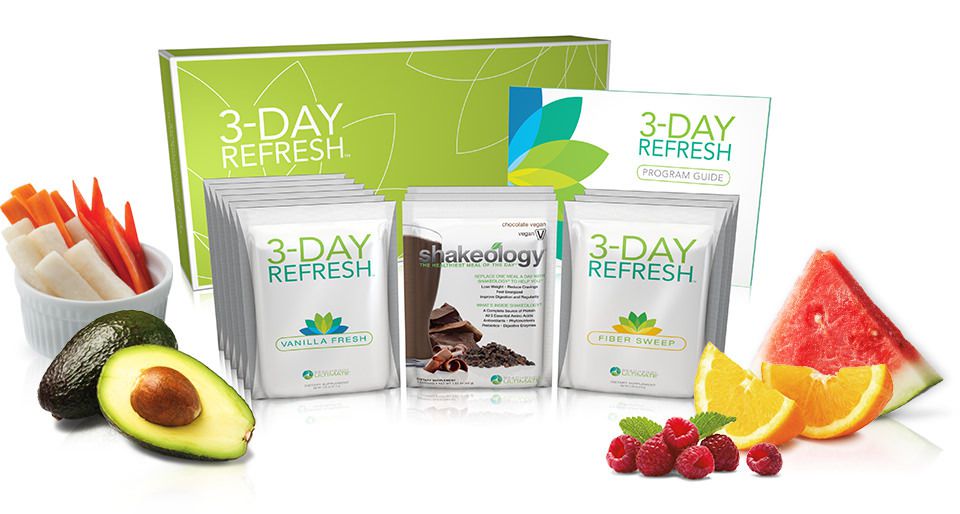 Need a quick way to lose a few pounds and get back on track with your nutrition and/or weight loss goals? Want a jump start before starting a new workout program?
3 Day Refresh can help you break the cycle of bad eating and get started on a path towards healthy weight loss.
If you've ever done a juice fast or liquid cleanse that's high in sugars and low in protein, you may have found that you felt weak and sluggish. And any weight loss came right back. That's because liquid fasts can tax your organs, and crater your metabolism.
The 3-Day Refresh is scientifically designed to do just the opposite. It detoxifies and cleanses, while supporting your metabolism with easy-to-prepare, nutritious whole food to help your vital organs reenergize. That's why you feel so good when you do the Refresh, and still lose weight at the same time! Your body functions more efficiently, and it helps burn fat.
It's 3 shakes a day, a fiber drink and lots of water plus 3 small meals per day made up and fruits and veggies.
Best of all, it's on sale until the end of March and there is a 30 day money back guarantee if you're not satisfied with the results.
So, if you're thinking about a new workout program, need a kick start over your weight loss plateau or just want to get back on a path towards healthier eating, 3 Day Refresh might be the answer.*
Ask me for more information!
**There's also and Ultimate Refresh option for 21 days if you really want to reset your metabolism.