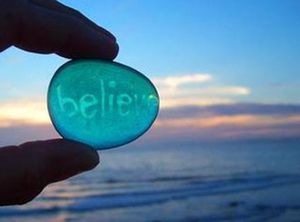 Our beliefs shape us, make us who we are and drive our daily decisions. What do you believe in?
Here are just some of the things I believe in...God is number one and I am so blessed to know HIM...Family and friends are the most precious things in the world...Hard work pays off....We aren't born with hate and prejudice, we learn it...Life is hard but we were never told it would be easy so that's not an excuse...Other people's opinions or me are just that and I can't control that, I can only control my character...Guns don't cause evil, people cause evil...We should look for the good in people instead of the bad...A positive attitude can change your whole day...A good night's sleep can cure a lot of things...A good workout can help with the rest...Cancer sucks and we need to find a cure...Natural ingredients over chemical and preservatives has got to be better for us...Feeding my body the right foods makes me more productive and my mind clearer...Life is about balance and living by the 80/20 rule is key...I CAN achieve anything I put my mind to.
Most of all, I believe in YOU! Whatever goals you're striving for or struggles you might be facing, you have the strength and power to get there. Do YOU believe in YOU as much as I do?